Order Report - Trust Drivers: Building Retail Investor Trust in the New Choice-Driven Marketplace
Report Overview
This Timely Topic Report identifies today's top drivers of customer trust in specific saving, investing and advice relationships:

learn about today's Top 10 Trust Drivers
understand where to focus firm resources to build long-lasting customer relationships
gain insight on the measurable impacts of firm execution on trust builders and busters
Select Key Findings
Improved execution on key drivers can be quantified in potential points of increase in trust.
A top trust driver is satisfaction with "understands me and shares my values."
Having well-trained staff is an emerging driver that can have more impact on consumer trust than low fees.
About the Hearts & Wallets Investor Quantitative™ Database
The Hearts & Wallets Investor Quantitative™ Database (IQDB) is the comprehensive resource for understanding and analyzing behaviors and attitudes of retail savers and investors. With an annual sampling wave that includes all age and wealth segments, the database is now composed of over 50,000 U.S. households and 1,600 fields and derived variables stretching back to 2010. The database enables sizing and profiling of virtually any demographic, behavioral or attitudinal definition for consumer groups. Timely Topic Reports focus on emerging trends that change each year.

This new 56-page report features 42 exhibits.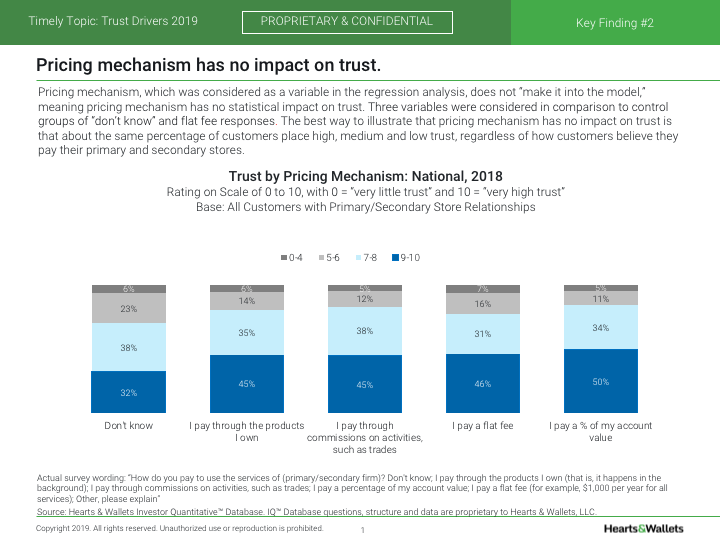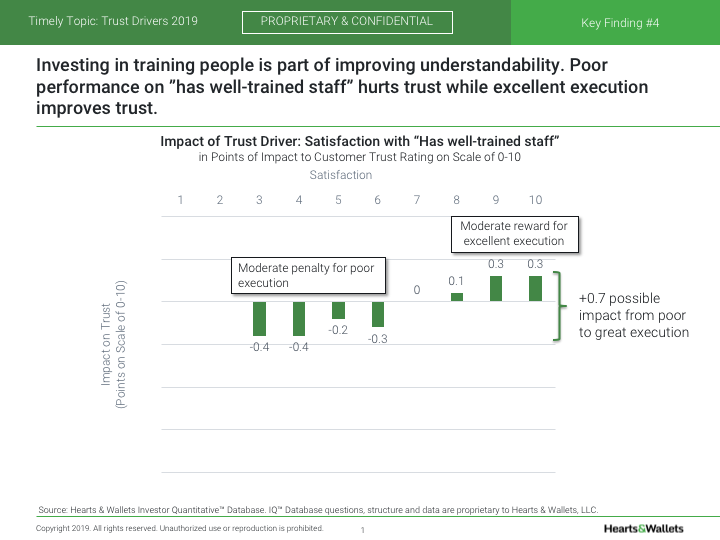 Executive Summary
Methodology, Introduction
Key Findings & Implications, Favorite Statistics, Related Research
1. Trust in saving and investing providers is improving, but there is an opportunity to both improve high trust as well as repair low trust.
Trust Rating of Primary and Secondary Providers: National, by Store
Trust Rating vs. Average Share of Wallet, Average Intent to Recommend, Average Intent to Invest More, Saving Rate, Seeking Help on "Choosing Appropriate Investments," Seeking Help on "Retirement Planning"
2. Firm execution on metrics specific to relationships matters much more to trust than a consumer's demographics or attitudes.
Trust Drivers: Consumer vs. Relationship Characteristics
Trust by Pricing Mechanism, National
Inside Advice<sup>®</sup> Benchmarking Overall Scores: Average, Min, Max
3. The impact of consumer characteristics on trust has become more diffuse: more matter but each has a lower impact.
Impact of Consumer Characteristics on Trust
Trust Drivers: Consumer Characteristics
4. Firm execution on select relationship-specific metrics can be either trust builders, trust busters or both, depending on performance.
Top 10 Trust Drivers & Their Impact
Customer Satisfaction of Want from Firm "Is unbiased, puts my interests first," by Select Stores and Trust Rating, by Select Stores
Appendix
Terminology & Definitions, Sample Sizes
Get The Trust Drivers: Building Retail Investor Trust in the New Choice-Driven Marketplace Timely Topic Report!

Click on the email below to request more information. Or fill out the request form at the upper right.
Select the desired report(s) and send a signed copy of this form to info@heartsandwallets.com or fax to 800-930-0966. We will prepare a separate invoice for payment.

By signing this form, I certify that I am authorized to make this purchase on behalf of my company ("Customer") and that Customer agrees to the following terms. Hearts & Wallets grants Customer a limited, non-exclusive, non-assignable license to use the Hearts & Wallets' report for Customer's private, internal use only. Customer shall not use any portion of the report for external use. Customer shall not share the report with any third-party, shall not permit other persons to use the report, shall not create derivative works based upon the report, and shall not sell, lease, or otherwise transfer rights to the report. Any such forbidden use shall immediately terminate Customer's license to the report. All title, ownership, rights, and intellectual property rights in the report shall at all times remain vested in Hearts & Wallets. Customer does not receive any ownership rights or intellectual property rights in the report. Upon receipt of this report, Customer accepts the report and agrees to pay the amount specified.