Order Report - The Power Of Planning:: Proven Benefits That Transform Consumer Financial Outcomes
Report Overview
There is power to planning - planners save and invest more, find fewer financial tasks challenging, have more diversified and appropriately allocated portfolios, and are more confident in their financial situation. And people with written plans are in the best shape of all. More than 80% of consumers think about their financial goals and planning, however, only half actually develop a plan! This report looks at who plans by generation, lifestage, wealth group and marital status. It also looks at what inspires a consumer to plan and the most common resources used.

Key Findings
Four out of 5 U.S. households think about long-term financial goals, with half having some sort of plan.
Plans, especially written plans, support better financial habits and more positive outcomes.
Inspirations for planning vary dramatically for couples vs. single consumers.
Many consumers develop plans on their own. More Millennials and Gen X consumers use "online software/ tools" than "primary firm."
Financial plans of Accumulators tend to be incomplete, with some coverage of saving and investing, but neglecting other aspects of financial wellness.
Older consumers in or near retirement are most likely to have components related to planning, with fewer reporting components related to managing.
Pricing Options to Meet Your Needs
Choose access licenses for your team or organization in ways that support how you collaborate. AVAILABLE FOR LICENSE TO NON TRENDS SUBSCRIBERS FEBRUARY 19, 2022.
Online only (1-20 log-ins) - $9,000
Online with slide download (1-50 logs-ins) - $12,000
Online with slide download, PPT & PDF (unlimited log-ins) - $19,000

Sample Report Pages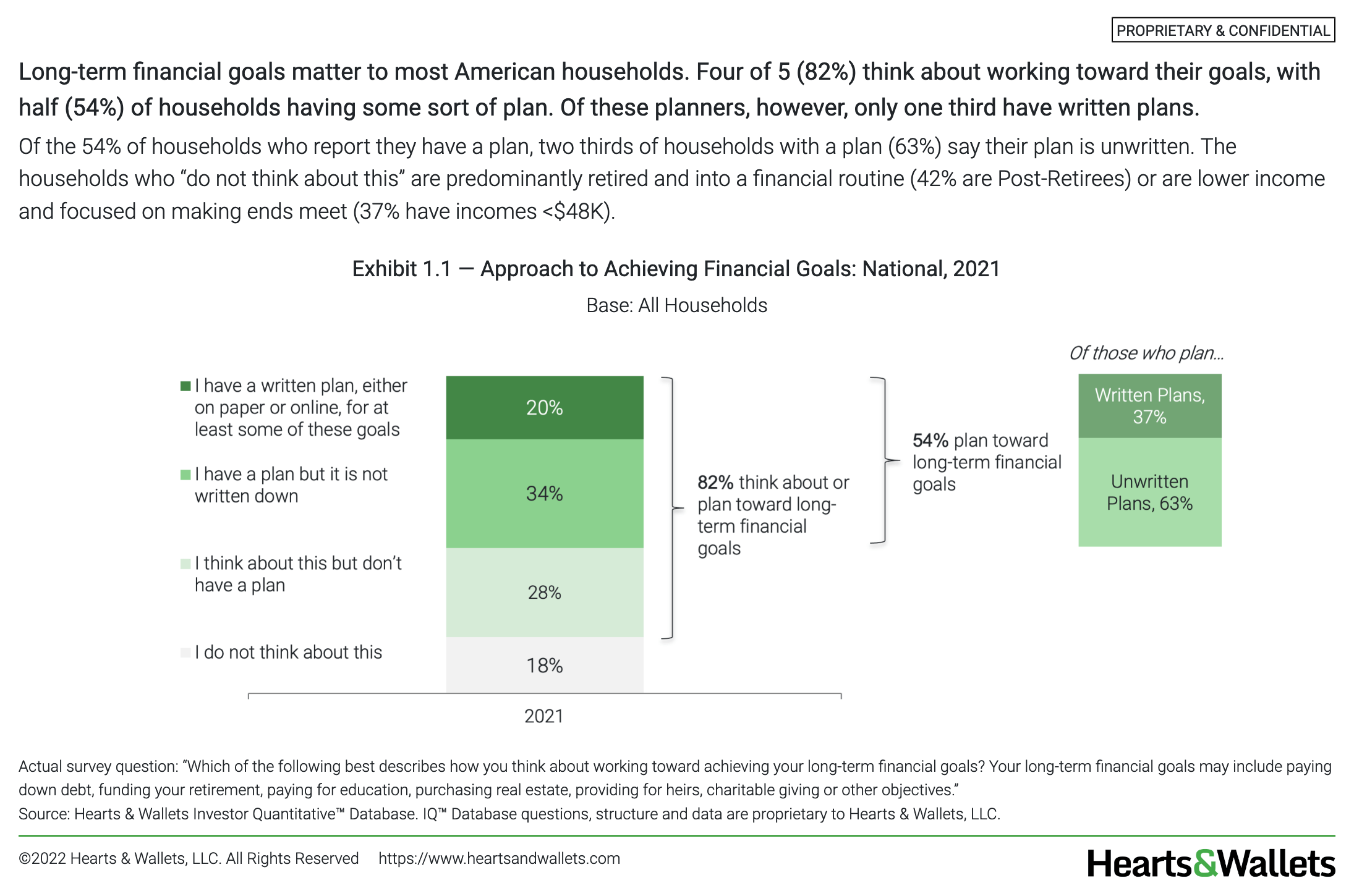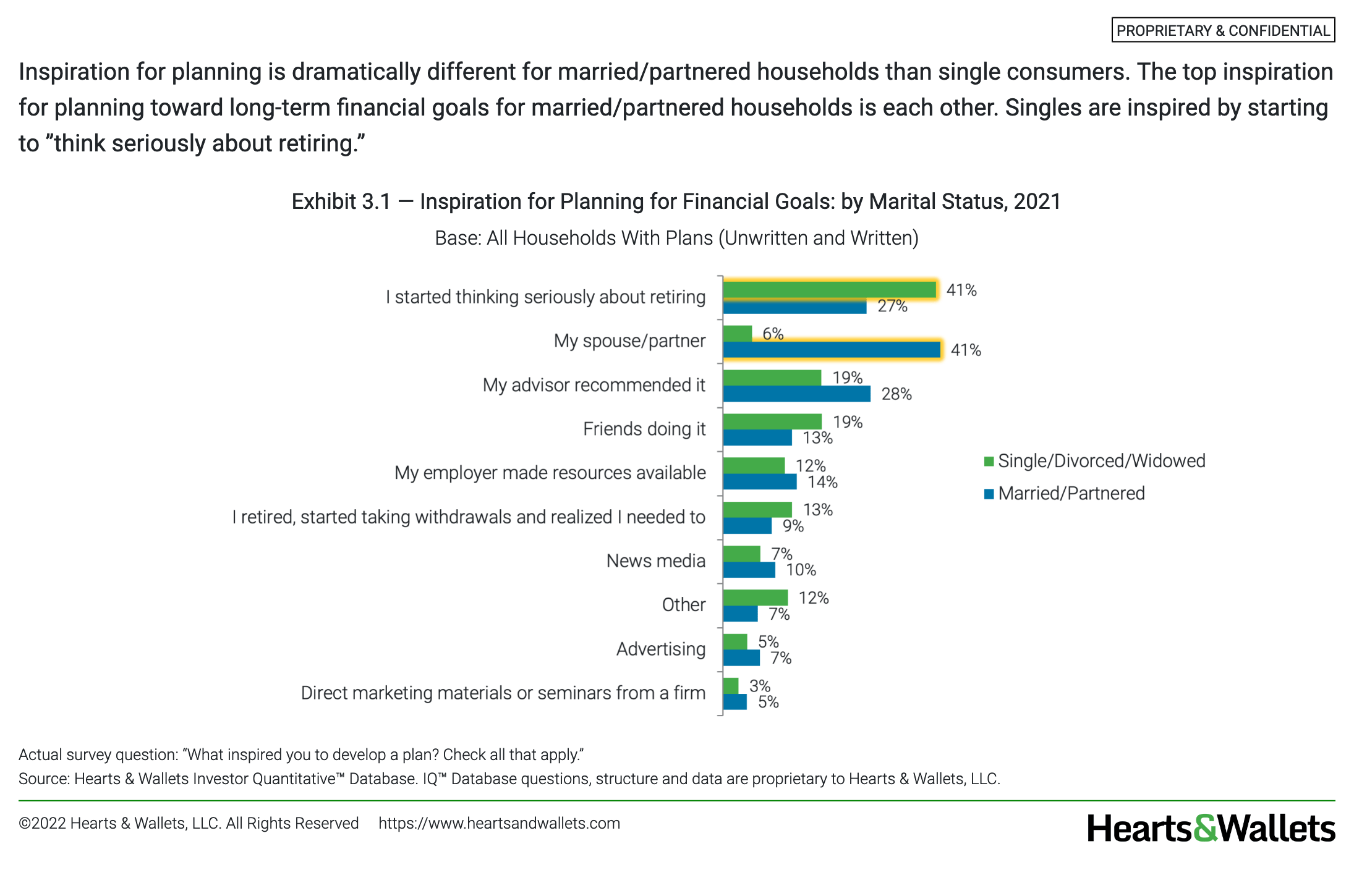 Key Findings & Implications 6
1: Four out of 5 U.S. households think about long-term financial goals, with half having some sort of plan. 9-19
1.1: Exhibit 1.1 — Approach to Achieving Financial Goals: National, 2021
1.2: Exhibit 1.2 — Approach to Achieving Financial Goals: Sizing & Goals, 2021
1.3: Exhibit 1.3 — Approach to Achieving Financial Goals: by Marital Status, 2021
1.4: Exhibit 1.4 — Approach to Achieving Financial Goals – Have A Written Plan: by Generation, by Parents or Child-Free, 2021
1.5: Exhibit 1.5 — Approach to Achieving Financial Goals: by Education Level, 2021
1.6: Exhibit 1.6 — Approach to Achieving Financial Goals: by Investable Assets, 2021
1.7: Exhibit 1.7 — Approach to Achieving Financial Goals – Have A Written Plan:by Generation by Investable Assets, 2021
1.8: Exhibit 1.8 — Approach to Achieving Financial Goals: by Lifestage, 2021
1.9: Exhibit 1.9 — Approach to Achieving Financial Goals – Have A Written Plan:by Investable Assets, by Lifestage, 2021
1.10: Exhibit 1.10 — Crosstab of Approach to Achieving Financial Goals by Decision-Making Process Preference:National, 2021
1.11: Exhibit 1.11 — Approach to Achieving Financial Goals by Store: All Customer Types, 2021
2: Plans, especially written plans, support better financial habits and more positive outcomes. 20-26
2.1: Exhibit 2.1 — Difficulty With Selected Financial Tasks: by Approach to Achieving Financial Goals, 2021
2.2: Exhibit 2.2 — Comparing Approaches to Achieving Financial Goals: National, 2021
2.3: Exhibit 2.3 — Saving Rate Segmented by Approach to Achieving Financial Goals: by National, by Lower Income Ranges, 2021
2.4: Exhibit 2.4 — Saving Rate Segmented by Approach to Achieving Financial Goals: by Higher Income Ranges, 2021
2.5: Exhibit 2.5 — 10%+ Saving Rate Segmented by Approach to Achieving Financial Goals: by Income Ranges, 2021
2.6: Exhibit 2.6 — Comparing Select Attitudes & Investment Goals: by Approach to Achieving Financial Goals, 2021
2.7: Exhibit 2.7 — Percent of Asset Class Allocation: by Asset Class, by Approach to Achieving Financial Goals, 2021
3: Inspirations for planning vary dramatically for couples vs. single consumers. 27-32
3.1: Exhibit 3.1 — Inspiration for Planning for Financial Goals: by Marital Status, 2021
3.2: Exhibit 3.2 — Inspiration for Planning for Financial Goals: by Marital Status, by Income Ranges, 2021
3.3: Exhibit 3.3 — Inspiration for Planning for Financial Goals: by Generation, by Marital Status, 2021
3.4: Exhibit 3.4 — Inspiration for Planning for Financial Goals: by Investable Assets, by Marital Status, 2021
3.5: Exhibit 3.5 — Inspiration for Planning for Financial Goals: by Plan, by Marital Status, 2021
3.6: Exhibit 3.6 — Inspired by Advisor for Planning for Financial Goals by Store: All Customer Types, 2021
4: Many consumers develop plans on their own. More Millennials and Gen X consumers use "online software/ tools" than "primary firm." 3-41
4.1: Exhibit 4.1 — Method of Developing Plan for Financial Goals: National, 2021
4.2: Exhibit 4.2 — Method of Developing Plan for Financial Goals: by Plan, 2021
4.3: Exhibit 4.3 — Count of Method of Developing Plan for Financial Goals: by Investable Assets, 2021
4.4: Exhibit 4.4 — Method of Developing Plan for Financial Goals: Millennials, by Investable Assets, 2021
4.5: Exhibit 4.5 — Method of Developing Plan for Financial Goals: Gen X, by Investable Assets, 2021
4.6: Exhibit 4.6 — Method of Developing Plan for Financial Goals: Baby Boomers, by Investable Assets, 2021
4.7: Exhibit 4.7 — Method of Developing Plan for Financial Goals: by Investing Experience Level, 2021
4.8: Exhibit 4.8 — "I developed it in conjunction with Primary Firm" by Store: All Customer Types, 2021
4.9: Exhibit 4.9 — Method of Developing Plan for Financial Goals By Myself: All Customer Types, 2021
5: Financial plans of Accumulators tend to be incomplete, with some coverage of saving and investing, but neglecting other aspects of financial wellness. 42-46
5.1: Exhibit 5.1 — Financial Plan Components: Accumulators, 2021
5.2: Exhibit 5.2 — Accumulator Financial Plan Components: by Interest Level, 2021
5.3: Exhibit 5.3 — Accumulator Interest (Very/Somewhat Interested) in Financial Plan Components: by Investable Assets, 2021
5.4: Exhibit 5.4 — Percent of Accumulators Who Have Financial Component "Analysis of how to balance my competing goals, which may include maintaining my current standard of living, paying down debt, funding retirement, education or other long-term goals" by Store: All Customer Types, 2021
5.5: Exhibit 5.5 — Accumulator Interest (Very/Somewhat) in Financial Component "Analysis of how to balance my competing goals, which may include maintaining my current standard of living, paying down debt, funding retirement, education or other long-term goals" by Store: All Customer Types, 2021
6: Older consumers in or near retirement are most likely to have components related to planning, with fewer reporting components related to managing. 47-53
6.1: Exhibit 6.1 — Financial Plan Components: Pre-Retirees, Fully Employed Seniors, and Post-Retirees, 2021
6.2: Exhibit 6.2 — Pre-Retiree, Fully Employed Senior, and Post-Retiree Financial Plan Components: by Interest Level, 2021
6.3: Exhibit 6.3 — Pre-Retiree, Fully Employed Senior, and Post-Retiree Interest (Very/Somewhat) in Financial Plan Components: by investable Assets, 2021
6.4: Exhibit 6.4 — Percent of Pre-Retirees, Fully Employed Seniors, & Post-Retirees Who Have Financial Component "Recommendations for minimizing your overall tax obligations by saving and investing tax-optimally in different accounts" by Store: All Customer Types, 2021
6.5: Exhibit 6.5 — Pre-Retiree, Fully Employed Senior, & Post-Retiree Interest (Very/Somewhat) in Financial Component "Recommendations for minimizing your overall tax obligations by saving and investing tax-optimally in different accounts" by Store: All Customer Types, 2021
6.6: Exhibit 6.6 — Percent of Pre-Retirees, Fully Employed Seniors, & Post-Retirees Who Have Financial Component "Advice on estate planning and charitable giving for long-term tax planning" by Store:All Customer Types, 2021
6.7: Exhibit 6.7 — Pre-Retiree, Fully Employed Senior, & Post-Retiree Interest (Very/Somewhat) in Financial Component "Advice on estate planning and charitable giving for long-term tax planning" by Store:All Customer Types, 2021