Order Report - Stores and Success Metrics 2022:
Report Overview
Consumer trust in relationships with financial services firms is at the highest levels since tracking began. Despite this, most continue to reduce their share of wallet with their primary store through opening new accounts and establishing relationships with new firms. This report examines how many financial relationships consumers now have, which segments seem to be more and less loyal, and what to consider when trying to acquire and retain clients in a time of greater choice. The report also looks at which stores have the highest share of wallet, reach and loyalty scores.

Key Findings
Maintaining multiple saving and investing relationships is the predominant consumer behavior, especially for households with traits attractive to firms.
Share of wallet at primary stores dropped nationally as consumers diversified away from their primary stores.

Bank of America Merrill, already #1 in reach, further increased its lead and now has relationships with 1 in 4 households.

Nationally, consumer trust in saving, investing and advice relationships is at the highest since tracking began.

Weak progress on loyalty metrics, especially likelihood to invest more, presents an opportunity for firms.
Pricing
Choose access licenses for your team or organization in ways that support how you collaborate. AVAILABLE FOR LICENSE TO NON TRENDS SUBSCRIBERS April 15, 2022.
Online only (1-20 log-ins) - $6,000
Online with slide download (1-50 logs-ins) - $9,500
Online with slide download, PPT & PDF (unlimited log-ins) - $15,000

Sample Report Pages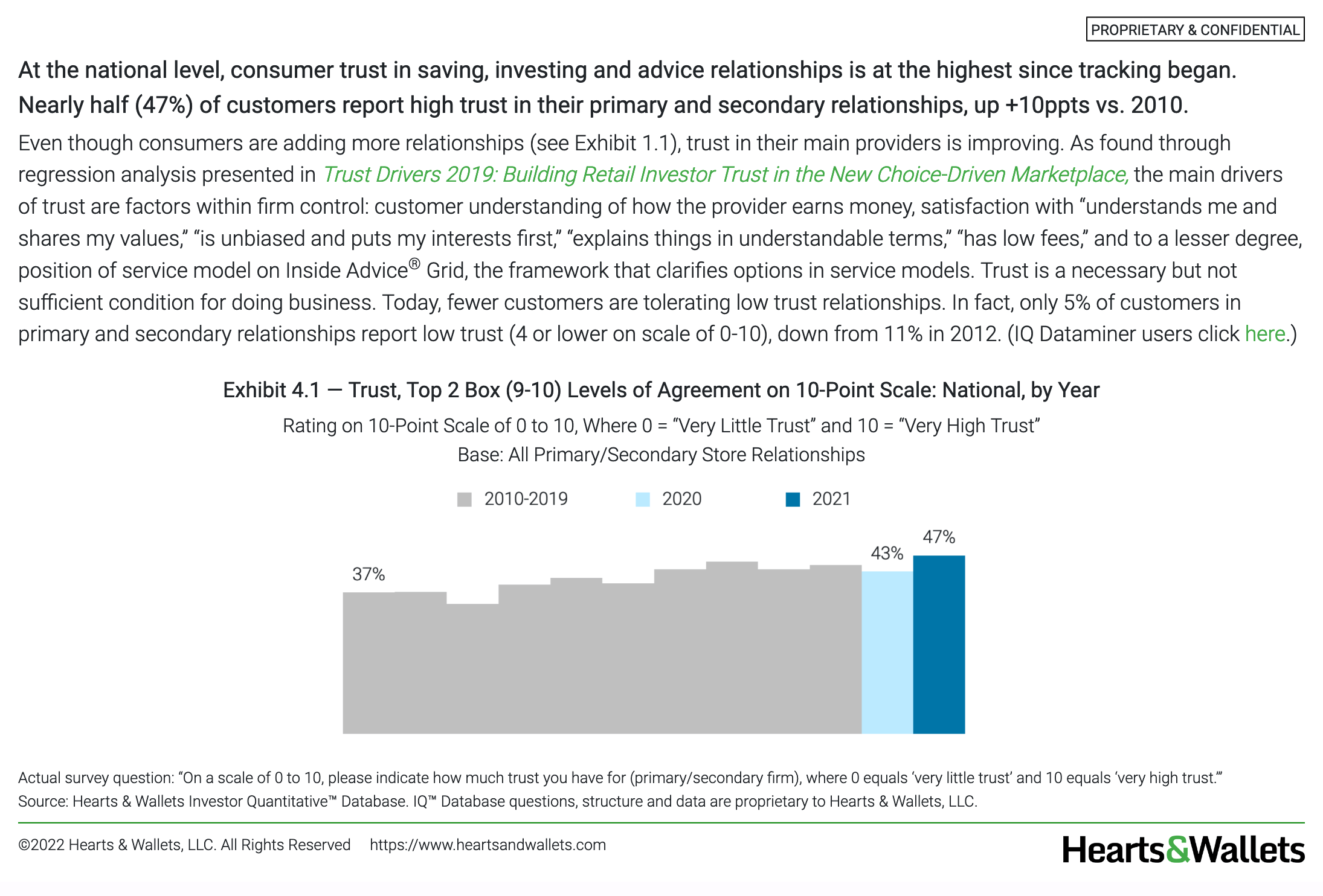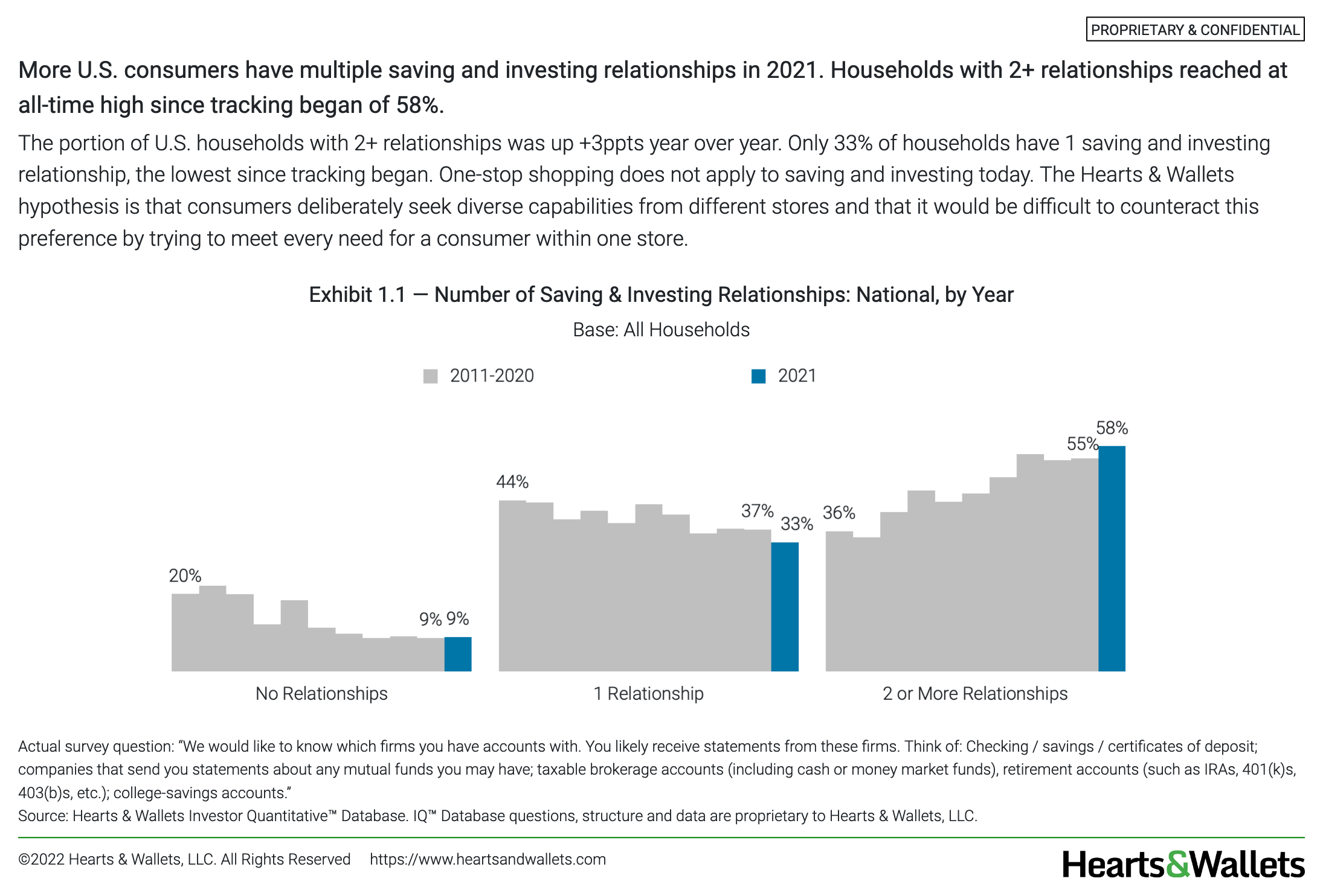 Select Success Metrics - 4-5
Key Findings & Implications - 6
1: Maintaining multiple saving and investing relationships is the predominant consumer behavior, especially for households with traits attractive to firms - 9-18
1.1: Exhibit 1.1 — Number of Saving & Investing Relationships: National, by Year
1.2: Exhibit 1.2 — Number of Saving & Investing Relationships, Full Range: National, by Year
1.3: Exhibit 1.3 — Average Number of Saving & Investing Relationships: by Investable Assets, by Year
1.4: Exhibit 1.4 — Number of Saving & Investing Relationships: by Investable Assets, 2021 vs. 2020
1.5: Exhibit 1.5 — Average Number of Saving & Investing Relationships: by Education Level, by Year
1.6: Exhibit 1.6 — Number of Saving & Investing Relationships: by Risk Tolerance Level, 2021
1.7: Exhibit 1.7 — Number of Saving & Investing Relationships: by Risky Business Segments, 2021
1.8: Exhibit 1.8 — Number of Saving & Investing Relationships: by Saving Rate, 2021
1.9: Exhibit 1.9 —Number of 4+ Saving & Investing Relationships: by Store, 2021
1.10: Exhibit 1.10 — Average Number of Saving & Investing Relationships: by Store, by Year's
2: Share of wallet at primary stores dropped nationally as consumers diversified away from their primary stores - 19-27
2.1: Exhibit 2.1 — Mean Share of Wallet Held at Primary Store: National, by Year
2.2: Exhibit 2.2 — Mean Share of Wallet Held at Primary Store: by Investable Assets, by Year
2.3: Exhibit 2.3 — Mean Share of Wallet: by Store, by Year
2.4: Exhibit 2.4 — Mean Share of Wallet: by Store, by Year
2.5: Exhibit 2.5 — Serve as Primary Store: by Store, by Year
2.6: Exhibit 2.6 — Serve as Primary Store: by Store, 2021
2.7: Exhibit 2.7 — Serve as Primary Store: by Store, by Investable Assets, 2021
2.8: Exhibit 2.8 — Mean Share of Wallet When Serve as Main Source of Retirement Advice: by Store, 2021
2.9: Exhibit 2.9 — Serve as Main Source of Retirement Advice: by Store, 2021
3: Bank of America Merrill, already #1 in reach, further increased its lead and now has relationships with 1 in 4 households - 28-29
3.1: Exhibit 3.1 — Top Stores for Household Relationships/Reach*: All Customer Types, by Year
3.2: Exhibit 3.2 — Top Stores for Share of U.S. Retail Investable Assets (<$5M), by Year
4: Nationally, consumer trust in saving, investing and advice relationships is at the highest since tracking began - 30-36
4.1: Exhibit 4.1 — Trust, Top 2 Box (9-10) Levels of Agreement on 10-Point Scale: National, by Year
4.2: Exhibit 4.2 — Trust, Top 2 Box (9-10) Levels of Agreement on 10-Point Scale, Primary vs. Secondary Store: National, by Year
4.3: Exhibit 4.3 — Trust, Top 2 Box (9-10) Levels of Agreement on 10-Point Scale: by Investable Assets, by Year
4.4: Exhibit 4.4 — Trust, Top 2 Box (9-10) Levels of Agreement on 10-Point Scale:by Respondent Generation, by Year
4.5: Exhibit 4.5 — Trust, Top 2 Box (9-10) Levels of Agreement on 10-Point Scale:by Respondent Generation, by Investable Assets, 2021
4.6: Exhibit 4.6 — Trust, Top 2 Box (9-10) Levels of Agreement on 10-Point Scale:by Store, by Year
4.7: Exhibit 4.7 — Trust, All Levels of Agreement on 10-Point Scale: by Store, 2021
5: Weak progress on loyalty metrics, especially likelihood to invest more, presents an opportunity for firms - 37-43
5.1: Exhibit 5.1 — Likelihood to Invest More, Top 2 Box (9 -10) Levels of Agreement on 10-Point Scale: National, by Year
5.2: Exhibit 5.2 — Likelihood to Invest More, Top 2 Box (9 -10) Levels of Agreement on 10-Point Scale: by Investable Assets, by Year
5.3: Exhibit 5.3 — Likelihood to Invest More, All Levels of Agreement on 10-Point Scale: by Store, 2021
5.4: Exhibit 5.4 — Likelihood to Recommend, Top 2 Box (9 -10) Levels of Agreement on 10-Point Scale: National, by Year
5.5: Exhibit 5.5 — Likelihood to Recommend, Top 2 Box (9 -10) Levels of Agreement on 10-Point Scale: by Investable Assets, by Years
5.6: Exhibit 5.6 — Likelihood to Recommend, All Levels of Agreement on 10-Point Scale: by Store, 2021
5.7: Exhibit 5.7 — Hearts & Wallets Loyalty Score: by Store, 2021