Order Report - Retirement & Funding: Mix it Up! Calling for Personalized Recipes Blending Part-time Work, Creative Approaches to Real Estate, and New Progress Measures – a Quantitative Report
Report Overview
The Retirement & Funding: Mix it Up! Calling for Personalized Recipes Blending Part-time Work, Creative Approaches to Real Estate, and New Progress Measures Report reveals the yet-to-retire consumer's expectations for retirement and post-retiree realities. Gain understanding on the most important trends in retirement funding and spending, including employer-sponsored plan dynamics.

Select Key Findings
Only 3 in 10 (30%) post-retirees spend less on housing than prior to retirement, indicating the potential for creative solutions for this expense category in retirement.
For post-retirees who have employment income, this funding source makes up 35% of their average monthly income.
Nationally, fewer consumers are devoting more than half of saving to employer retirement plans than in the past.
How This Report Helps
Marketing, product and advice/digital design professionals will benefit from the actionable data and insights in this report to:

Create programs that help future retirees blend sources of income, understand the changing transition from full- to part-time work, and manage controllable expenses.
Use the power of direct payroll deduction as a means of responding to consumer desire to save into account types beyond defined contribution.
Gain inspiration for progress metrics that provide satisfying financial wellness checkpoints across the consumer lifespan.
About the Hearts & Wallets Investor Quantitative™ Database
The Hearts & Wallets Investor Quantitative™ Database (IQDB) is the comprehensive resource for understanding and analyzing behaviors and attitudes of retail savers and investors. With over 1,600 fields and derived variables, the breadth and depth of topics covered is designed with decades of hands-on experience in the marketing, product, service and research functions it serves. The database covers consumers of all age and wealth segments, with over 5,000 annual responses to an online survey fielded mid-year since 2010. The large sample size of over 45,000 U.S. households permits sizing and profiling of virtually any demographic, behavioral or attitudinal definition for consumer groups. Its national weighting methodology allows for comparisons across years and customer/shareholder bases of leading firms.


"Rarely does any content that I've read over the years reach the level of sophistication and credibility that Hearts & Wallets produces."
– Consumer Insights Professional, major diversified firm
This new 58-page report features 44 data-intensive exhibits.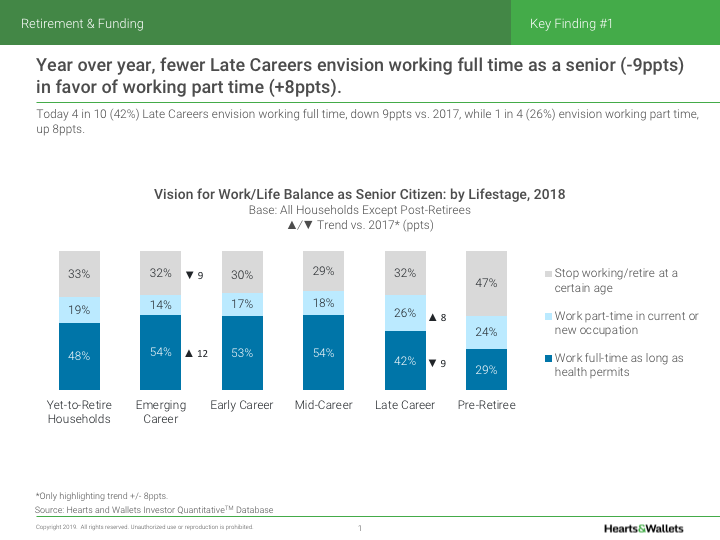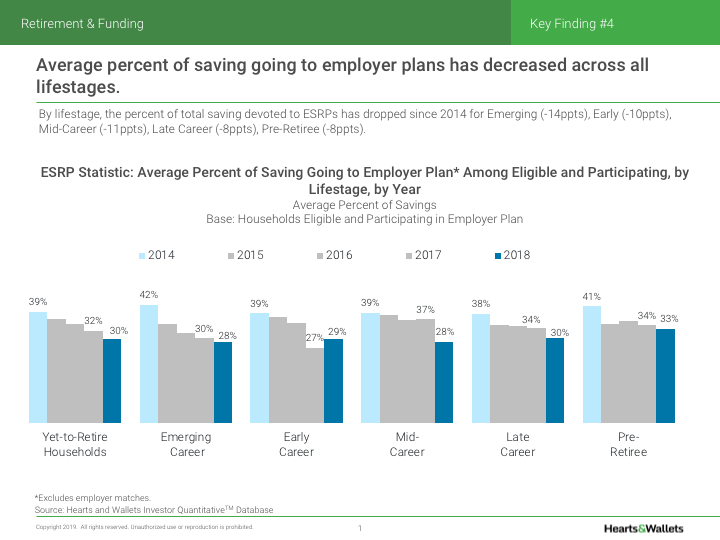 Executive Summary
Key Findings & Implications, Favorite Statistics, Related Research
Work Until Older, Pinpointing Age Difficult
Vision for Work/Life Balance as Senior Citizen: National, by Investable Assets, by Lifestage
Age Group Composition of Pre-Retirees
Actual/Anticipated Age of Stopping Full-time Work
Feelings About Financial Security by Difficulty With "Identifying What Year I Might Stop Working Full-Time"
Income Declines, Housing Emerging as Key Factor
Actual/Anticipated Income Replacement Rate
Spending by Category: National
Actual/Anticipated Retirement Spending vs. Spending Before Retirement
Recipe for Retirement Income Highly Varied and Personal
Anticipated Sources of Income: "I Have No Idea" Response Rate
Actual/Anticipated Sources of Income: Components of Income from Investable Assets, Percentage of Breadwinners Who are High Pensioners
Sources of Income: Incidence Rate and Average Percent of Income
Feelings About Financial Security by Difficulty with "Determining the income I can safely withdraw from personal assets in retirement"
Saving less in Employer-Sponsored Retirement Plans
Employer-Sponsored Retirement Plan (ESRP) Statistics: National
ESRP Statistic: Eligibility to Participate in Employer Plan
ESRP Statistic: Participation Rate Among Those Eligible
ESRP Statistic: Average Percent of Saving Going to Employer Plan Among Eligible and Participating
Need for New Funding Metrics
Summary of Retirement Funding Metrics
Retirement Reachability™ Ratio, Retirement Withdrawal Rate, Assets-to-Income Ratio
Appendix
Terminology & Definitions, Sample Sizes
Get the Retirement & Funding Report! Contact us for pricing options to order.

Select the desired report(s) and send a signed copy of this form to info@heartsandwallets.com or fax to 800-930-0966. We will prepare a separate invoice for payment.

By signing this form, I certify that I am authorized to make this purchase on behalf of my company ("Customer") and that Customer agrees to the following terms. Hearts & Wallets grants Customer a limited, non-exclusive, non-assignable license to use the Hearts & Wallets' report for Customer's private, internal use only. Customer shall not use any portion of the report for external use. Customer shall not share the report with any third-party, shall not permit other persons to use the report, shall not create derivative works based upon the report, and shall not sell, lease, or otherwise transfer rights to the report. Any such forbidden use shall immediately terminate Customer's license to the report. All title, ownership, rights, and intellectual property rights in the report shall at all times remain vested in Hearts & Wallets. Customer does not receive any ownership rights or intellectual property rights in the report. Upon receipt of this report, Customer accepts the report and agrees to pay the amount specified.