Order Report - Attitudes & Sentiment: Goal-Centric Consumers, the Advisory Relationship and Dreams of Retirement - a Quantitative Report
TO ORDER PRINT
OR CALL NOW 800-930-0966 x1

Report Overview
Consumers have multiple goals with retirement coming back into focus. The Attitudes & Sentiment: Goal-Centric Consumers, the Advisory Relationship and Dreams of Retirement report provides key insights into U.S. consumer sentiment, key concerns, financial goals, investing experience, and investing and savings attitudes to shape financial products, advice and messaging.
The report is written by subject matter experts who combine operating experience in retail finance with technology development and consumer packaged goods innovations. The ideas and analysis of this insight module are drawn from the latest fielding of the Hearts & Wallets Investor Quantitative™ Database (IQ™ Database), recognized as the largest single dataset on U.S. retail consumer attitudes, behaviors and buying patterns, with over 45,000 U.S. households.

Select Key Findings
An analysis of consumer attitudes reveals that understanding what a financial advisor does is a necessary first step toward receptivity to an advisory relationship.

Among firms that lead in customers who say they know what a financial advisor does are Morgan Stanley and Charles Schwab. As a "type," bank customers have the lowest understanding.

The desire to leave a legacy is at an all-time high.

How This Report Helps
Marketing, product and advice/digital design professionals will benefit from the actionable data and insights in this report to:
Build upon current positive consumer sentiment about the financial future by identifying groups who are most receptive to new products or relationships and target appropriately.

Recognize and track the consumers of consumers with $2M+ as a potential bellwether on the economy and market tolerance.

Develop tools and products that incorporate human capital to address increasing consumer interest in job security.
Expand multi-goal planning – consumers want this!

Address specific unmet needs of consumers to enhance understanding of what a financial advisor does, develop consumer-centric legacy solutions, create compelling connections between banking and investing, and reestablish understanding of what asset managers do.

About the Hearts & Wallets Investor Quantitative™ Database
The Hearts & Wallets Investor Quantitative™ Database (IQDB) is the comprehensive resource for understanding and analyzing behaviors and attitudes of retail savers and investors. With over 1,000 fields and derived variables, the breadth and depth of topics covered is designed with decades of hands-on experience in the marketing, product, service and research functions it serves. The database covers consumers of all age and wealth segments, with over 5,000 annual responses to an online survey fielded mid-year since 2010. The large sample size of over 45,000 U.S. households permits sizing and profiling of virtually any demographic, behavioral or attitudinal definition for consumer groups. Its national weighting methodology allows for comparisons across years and customer/shareholder bases of leading firms.


"Rarely does any content that I've read over the years reach the level of sophistication and credibility that Hearts & Wallets produces."
– Consumer Insights Professional, major diversified firm
Publication date November 14, 2018. This 36-page report features 24 data-intensive exhibits.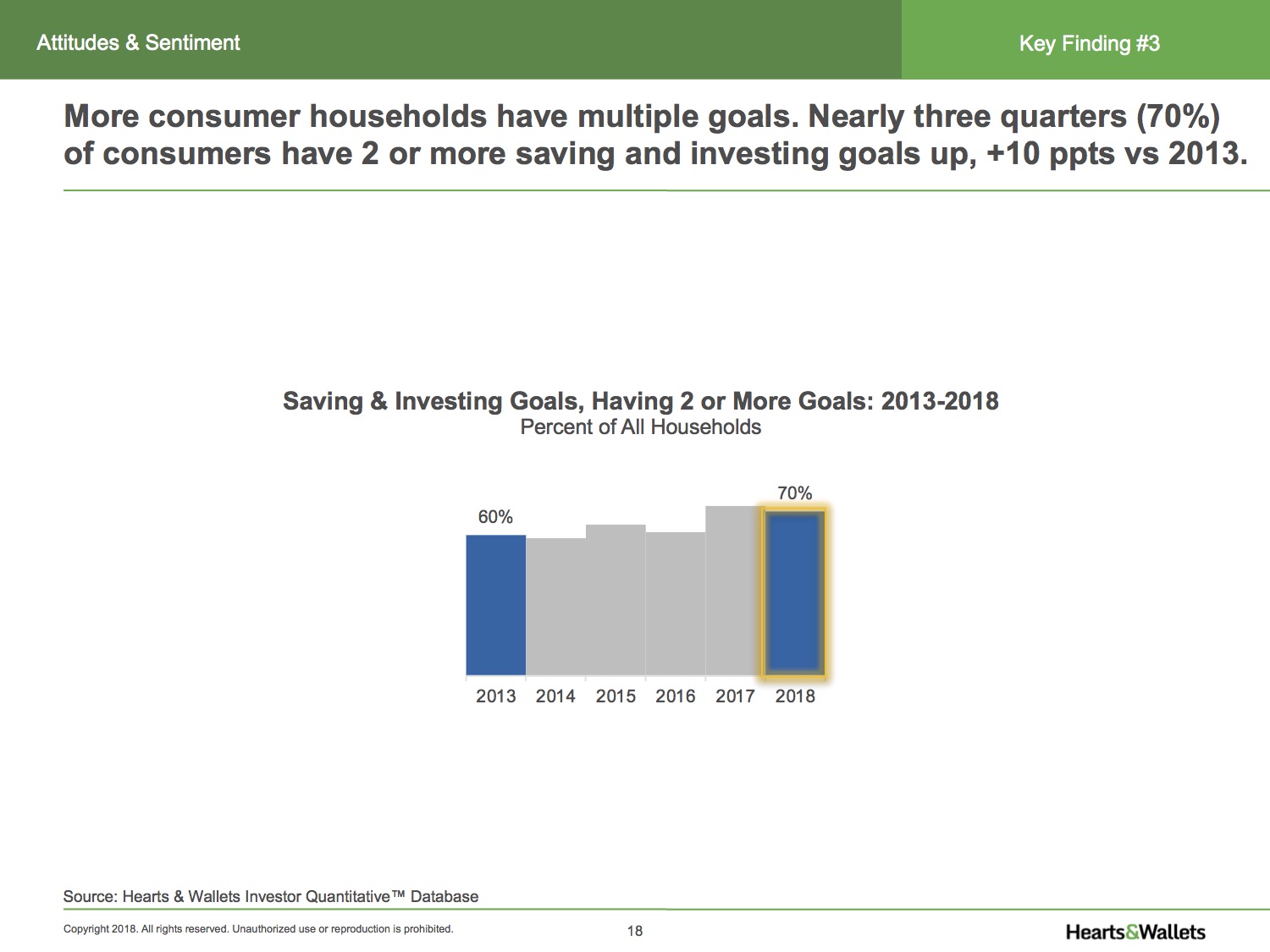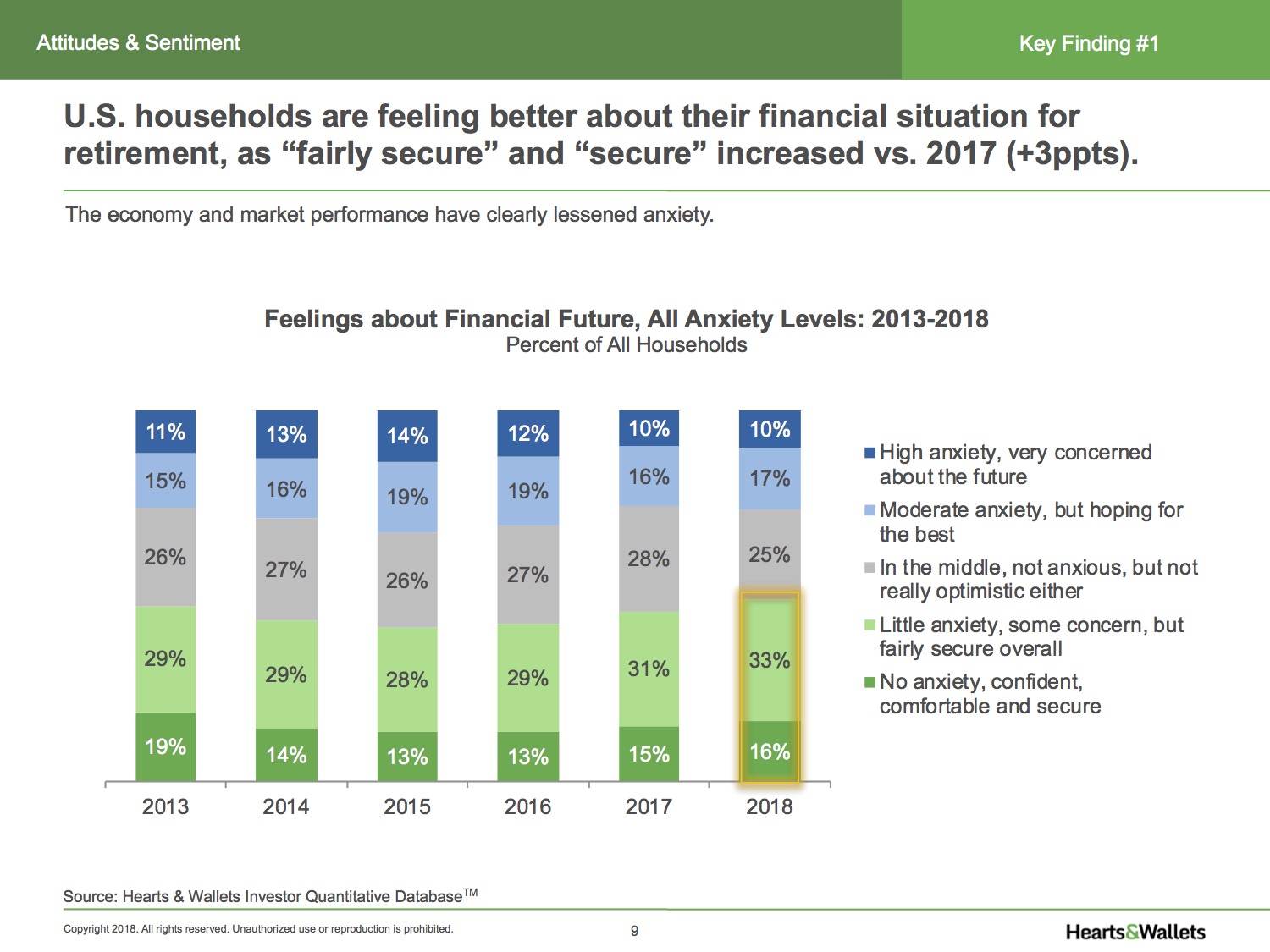 Table of Contents/Directory of Exhibits and Index of Companies
Executive Summary
Key Findings & Implications, Favorite Statistics, Related Research
Consumers Are Feeling Positive About Financial Future and Investing
Feelings about Financial Future, 2013-2018; by Lifestage
Perception of Experience in Investing, 2013-2018; by Lifestage
Risk Tolerance, 2013-2018; by Lifestage
Summary of Sentiments by Asset Levels, 2013-2018
Nationally Concerns Subside; Increases by Select Segments
Concern about Issues, 2018; Change by Asset Levels, Change by Lifestage
Multiple Goals Reign; Retirement Coming Back Into Focus
Saving and Investing Goals, 2018 vs 2015; Change by Asset Levels, Change by Lifestage
Attitudes Highlight the Advisory Relationship, Legacies, the Connection Between Banking and Investing, and Knowing Investment Managers Behind Funds
Retirement & Employment Attitudes, Net Agree vs. Net Disagree, 2018
Service-Pricing Attitudes, Net Agree vs. Net Disagree, 2018; Cross-tab Analysis; Store Mode Analysis
Engagement Attitudes, Net Agree vs. Net Disagree, 20183
Saving & Spending Attitudes, Net Agree vs. Net Disagree, 2018; Levels of Agreement, by Lifestage
Banking & Insurance Attitudes, Net Agree vs. Net Disagree, 2018; Levels of Agreement, by Lifestage
Appendix
Appendix: Terminology & Definition, Sample Sizes
Index of Companies
Bank of America/Merrill Lynch
Wells Fargo Bank/Advisors
Get the Attitudes & Sentiment Report! Contact us for pricing options to order.

Select the desired report(s) and send a signed copy of this form to info@heartsandwallets.com or fax to 800-930-0966. We will prepare a separate invoice for payment.

By signing this form, I certify that I am authorized to make this purchase on behalf of my company ("Customer") and that Customer agrees to the following terms. Hearts & Wallets grants Customer a limited, non-exclusive, non-assignable license to use the Hearts & Wallets' report for Customer's private, internal use only. Customer shall not use any portion of the report for external use. Customer shall not share the report with any third-party, shall not permit other persons to use the report, shall not create derivative works based upon the report, and shall not sell, lease, or otherwise transfer rights to the report. Any such forbidden use shall immediately terminate Customer's license to the report. All title, ownership, rights, and intellectual property rights in the report shall at all times remain vested in Hearts & Wallets. Customer does not receive any ownership rights or intellectual property rights in the report. Upon receipt of this report, Customer accepts the report and agrees to pay the amount specified.