Report Overview
Ownership of managed investment solutions including mutual funds, ETFs and robos grew in the past year. Does this mean investors are now seeking more professional investment management vs. relying on doing it themselves - especially given the current state of the market? Possibly, but individual stocks are now the most widely owned investment type, and trading activity spiked in the past year. This report explores both of these trends in detail, including which segments are driving each, and where the opportunities lie for asset managers, distributors and brokerage firms. Additionally, given the current market volatility, we have included a special section on how managed solutions help investors cope with handling market volatility.

Key Findings
Consumer awareness of the investment products they own is on the upswing, especially for mass market households.

Individual stocks are now the most widely owned investment product, but ownership of managed solutions grew, with a big increase in consumer interest in the managers behind the funds.

Online brokerage (OLB) penetration jumped to nearly half (47%) of U.S. households. Trading activity spiked.

Women report lower OLB ownership and trading activity than men, but younger women and married/partnered women are getting more engaged in stock trading.

Use of robos/automated portfolios doubled year over year to at least 13M households, and possibly as many as 18M.

Owning mutual funds appears to help consumers "handle market volatility emotionally," but robos do not.

Pricing
Choose access licenses for your team or organization in ways that support how you collaborate. AVAILABLE FOR LICENSE TO NON TRENDS SUBSCRIBERS June 16, 2022.
Online only (1-20 log-ins) - $6,000
Online with slide download (1-50 logs-ins) - $9,500
Online with slide download, PPT & PDF (unlimited log-ins) - $15,000

Sample Report Pages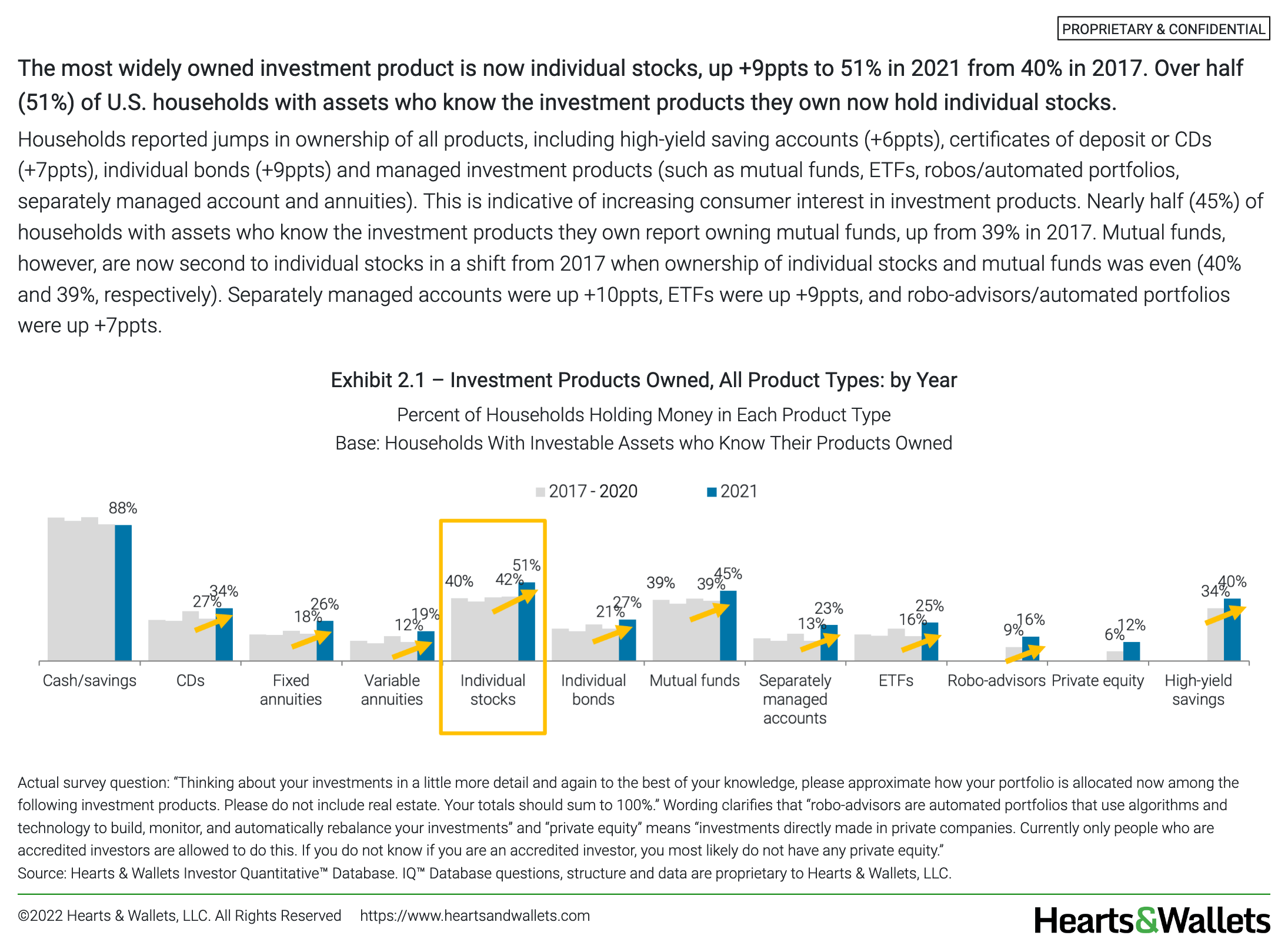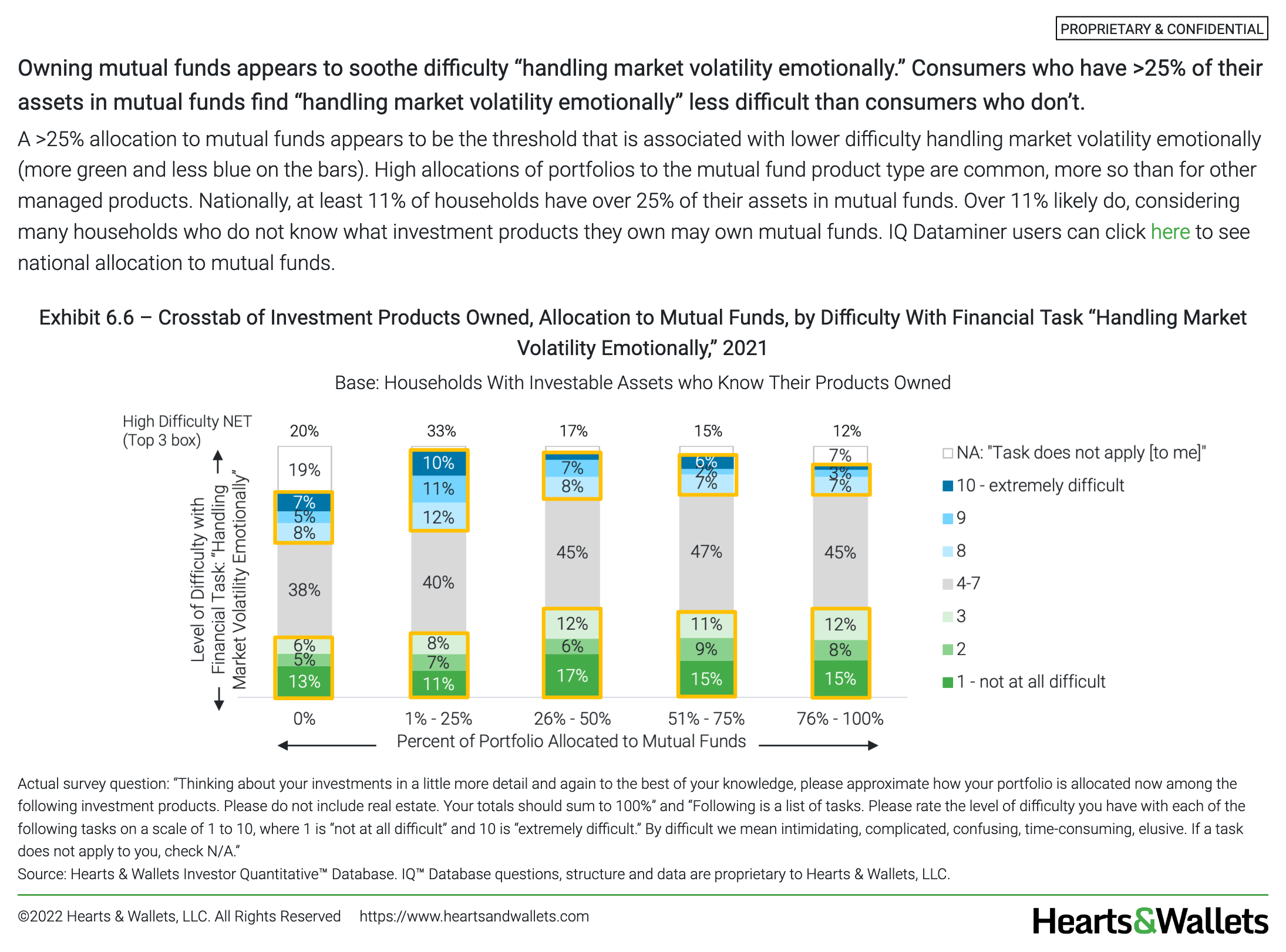 Key Findings & Implications 4
1: Consumer awareness of the investment products they own is on the upswing, especially for mass market households. 7-14
1.1: Exhibit 1.1 – Awareness of Investment Products Owned and Asset Allocation: National, by Year
1.2: Exhibit 1.2 – Awareness of Investment Products Owned and Asset Allocation: by Assets, by Year
1.3: Exhibit 1.3 – Awareness Investment Products Owned: by 12 Asset Ranges, by Year
1.4: Exhibit 1.4 – Awareness of Investment Products Owned: by 12 Asset Ranges, by Advice Status, by Year
1.5: Exhibit 1.5 – Asset Allocation to Equity in Ranges: by Year
1.6: Exhibit 1.6 – Average Asset Allocation: by Investable Assets, 2021
1.7: Exhibit 1.7 – Asset Allocation to Equity in Ranges: by Breadwinner Age Ranges, 2021
1.8: Exhibit 1.8 – Asset Allocation to Equity in Ranges, by Use of Fractional Shares: National, 2021
2: Individual stocks are now the most widely owned investment product, but ownership of managed solutions grew, with a big increase in consumer interest in the managers behind the funds. 15-23
2.1: Exhibit 2.1 – Investment Products Owned, All Product Types: by Year
2.2: Exhibit 2.2 – Ownership of Individual Stocks vs. Mutual Funds: by Investable Assets, 2021 vs. 2010
2.3: Exhibit 2.3 – Ownership of Individual Stocks and Mutual Funds: by Breadwinner Age, by Year
2.4: Exhibit 2.4 – Ownership of ETFs, Robos/Automated Portfolios and Separately Managed Accounts: by Breadwinner Age, by Year
2.5: Exhibit 2.5 – Ownership of Fixed and Variable Annuities: by Breadwinner Age, by Year
2.6: Exhibit 2.6 – Trends in Ownership of Managed Products NET
2.7: Exhibit 2.7 –Attitude "It is important to me which investment companies manage my mutual funds regardless of whether I or a financial professional has chosen the funds," Top 3 Box (8-10) Levels of Agreement on 10-Point Scale: by National, by Respondent Age Ranges, 2021 vs. 2020
2.8: Exhibit 2.8 –Attitude "It is important to me which investment companies manage my mutual funds regardless of whether I or a financial professional has chosen the funds," Top 3 Box (8-10) Levels of Agreement on 10-Point Scale: by 12 Asset Ranges, 2021 vs. 2020
2.9: Exhibit 2.9 – Attitude "It is important to me which investment companies manage my mutual funds regardless of whether I or a financial professional has chosen the funds," Top 3 Box (8-10) Levels of Agreement on 10-Point Scale: by Advice Status, by Investable Assets, by Year
3: Online brokerage (OLB) penetration jumped to nearly half (47%) of U.S. households. Trading activity spiked. 24-30
3.1: Exhibit 3.1 – Online Brokerage Account Ownership and Trading Activity: National, by Year
3.2: Exhibit 3.2 – Online Brokerage Account Ownership: by Investable Assets, by Selected Years
3.3: Exhibit 3.3 – Online Brokerage Trading Frequency: National, by Year
3.4: Exhibit 3.4 – Online Brokerage Account Ownership and Trading Frequency: by Investable Assets, 2021
3.5: Exhibit 3.5 – Crosstab of Fractional Shares, Awareness & Use/Interest by Online Brokerage Account Ownership and Trading Frequency: 2021
3.6: Exhibit 3.6 – Make 1+ Online Brokerage Trades on Their Own: $500K+, by Reliance on Paid Investment Professional, by Year
3.7: Exhibit 3.7 – Make 1+ Online Brokerage Trades on Their Own, by Store: 2021
4: Women report lower OLB ownership and trading activity than men, but younger women and married/partnered women are getting more engaged in stock trading. 31-35
4.1: Exhibit 4.1 – Online Brokerage Account Ownership and Trade 6+ Times per Year: by Respondent Gender*, by Relationship Status*, 2021
4.2: Exhibit 4.2 – Trade 6+ Times Per Year by Women: National, by Relationship Status, 2021
4.3: Exhibit 4.3 – Trade 6+ Times Per Year by Women: National, by Relationship Status, by Investable Assets, 2021
4.4: Exhibit 4.4 – Trade 6+ Times Per Year: by Generation, by Respondent Gender, by Year
4.5: Exhibit 4.5 – Online Brokerage Account Ownership and Trade 6+ Times per Year by Women: National, by Select Generation, by Relationship Status, by Year
5: Use of robos/automated portfolios doubled year over year to at least 13M households, and possibly as many as 18M. 36-48
5.1: Exhibit 5.1 — Number of Households With Robos/Automated Portfolios: National, by Year
5.2: Exhibit 5.2 – Robos/Automated Portfolios Ownership Rates Among Households who Know Their Products Owned: by Investable Assets, by Year
5.3: Exhibit 5.3 – Robos/Automated Portfolios Ownership Rates: by Investable Assets, by Year
5.4: Exhibit 5.4 – Average Asset Allocation: by Robo Ownership and Investable Assets, 2021
5.5: Exhibit 5.5 – Asset Allocation to Equity in Ranges: by Robo Ownership and Investable Assets, 2021
5.6: Exhibit 5.6 – Average Allocation to Robos, Among Robo Owners: by Investable Assets, by Year
5.7: Exhibit 5.7 – Dollars Invested in Robos/Automated Portfolios: by Year
5.8: Exhibit 5.8 – Dollars Invested in Robos/Automated Portfolios: by Investable Assets, by Year
5.9: Exhibit 5.9 – Robos/Automated Portfolios Ownership Rates: by Generation, by Lifestage, by Year
5.10: Exhibit 5.10 – Robos/Automated Portfolios Ownership Rates: by Generation and Investable Assets, by Year
5.11: Exhibit 5.11 – Robos/Automated Portfolios Ownership Rates: by Generation, by Year
5.12: Exhibit 5.12 – Pre-Retiree Segment & Pre-Retirees with Robos/Automated Portfolios, by Generation with Xennials, 2021
5.13: Exhibit 5.13 – Customer Use of Robos/Automated Portfolios: by Store, by Year
6: Owning mutual funds appears to help consumers "handle market volatility emotionally," but robos do not. 49-57
6.1: Exhibit 6.1 – Difficulty With Financial Task "Handling Market Volatility Emotionally," By Year
6.2: Exhibit 6.2 – Crosstab of Asset Class Allocation, Equity, by Difficulty With Financial Task "Handling Market Volatility Emotionally," 2021
6.3: Exhibit 6.3 – Crosstab of Online Brokerage Ownership & Trading Frequency by Difficulty With Financial Task "Handling Market Volatility Emotionally," 2021
6.4: Exhibit 6.4 – Difficulty With Financial Task "Handling Market Volatility Emotionally" by Professionally Advised vs. Unadvised*, by Investable Assets, 2021
6.5: Exhibit 6.5 – Crosstab of Frequency of Consultation, Any Paid Investment Professional, by Difficulty With Financial Task "Handling Market Volatility Emotionally," 2019
6.6: Exhibit 6.6 – Crosstab of Investment Products Owned, Allocation to Mutual Funds, by Difficulty With Financial Task "Handling Market Volatility Emotionally," 2021
6.7: Exhibit 6.7 – Crosstab of Investment Products Owned, Allocation to Mutual Funds, by Difficulty With Financial Task "Handling Market Volatility Emotionally," $100K-$1M, 2021
6.8: Exhibit 6.8 – Crosstab of Investment Products Owned, Allocation to Mutual Funds, by Difficulty With Financial Task "Handling Market Volatility Emotionally," $100K-$1M, Inexperienced Investors, 2021
6.9: Exhibit 6.9 – Crosstab of Investment Products Owned, Allocation to ETFs and Robos, by Difficulty With Financial Task "Handling Market Volatility Emotionally," 2021