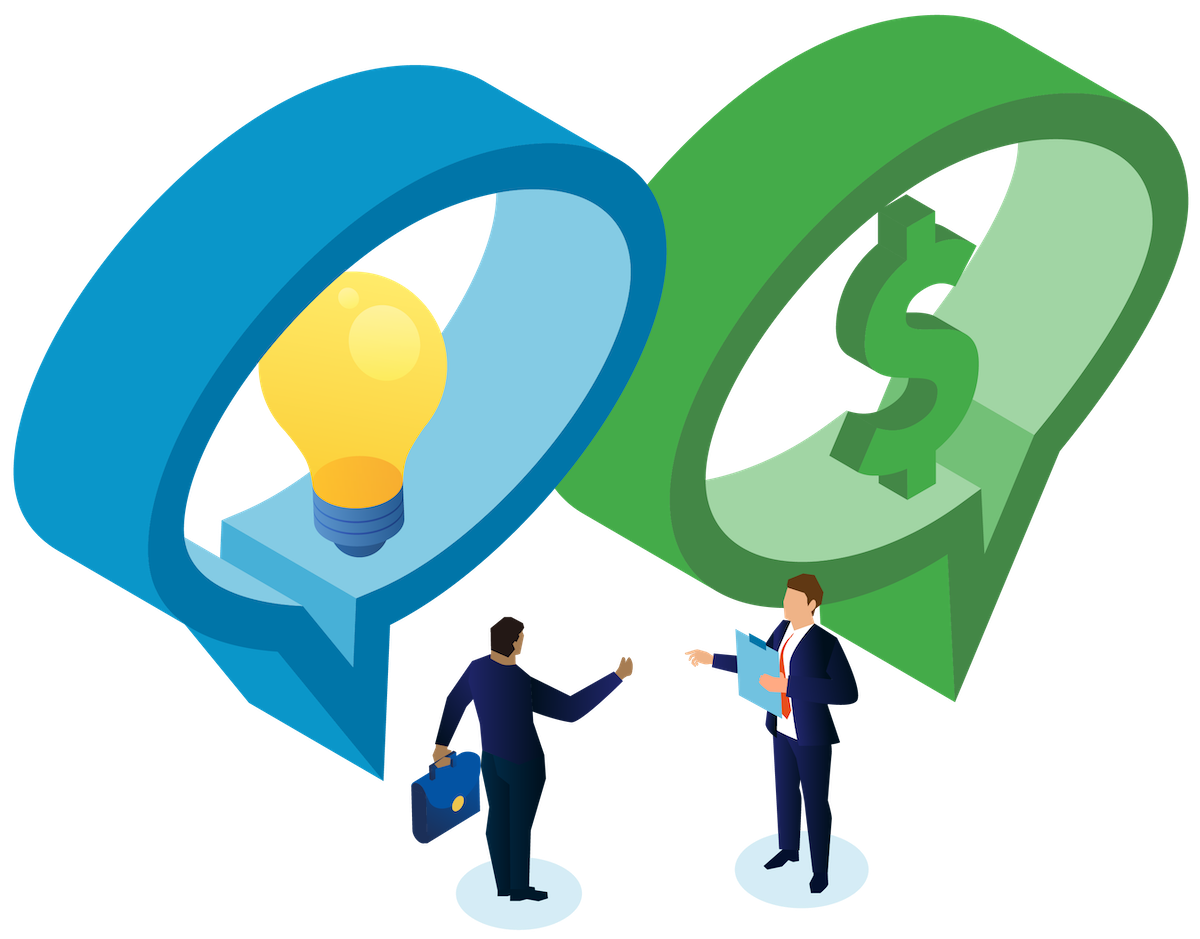 Order Report - Wants & Pricing 2023: Growing Demand for Access, the Allure of "Free" and Top Performer Firms
Report Overview
Our highly rated "wants and pricing" report looks at the top customer wants, customer understanding of pricing, and which firms customers rate as "Top Performers" across these important metrics. Report highlights
Key Findings
Having clear and understandable fees is the #1 want from consumers
Competition is intensifying, as there are fewer "Top Performer" firms than in the past. Edward Jones and Ameriprise are leading the industry on most of these measures
Consumers are now placing more importance on pricing when selecting savings and investing providers. But most (~75%) of customers still dont "understand very well" how firms make money. There has been very little improvement on this metric since tracking began 13 years ago.
Consumer understanding of how providers earn money is strongly linked to trust.
Pricing
Choose access licenses for your team or organization in ways that support how you collaborate. AVAILABLE FOR LICENSE TO NON TRENDS SUBSCRIBERS June, 2023.
Online only (1-20 log-ins) - $6,000
Online with slide download (1-50 logs-ins) - $9,500
Online with slide download, PPT & PDF (unlimited log-ins) - $15,000
Sample Report Pages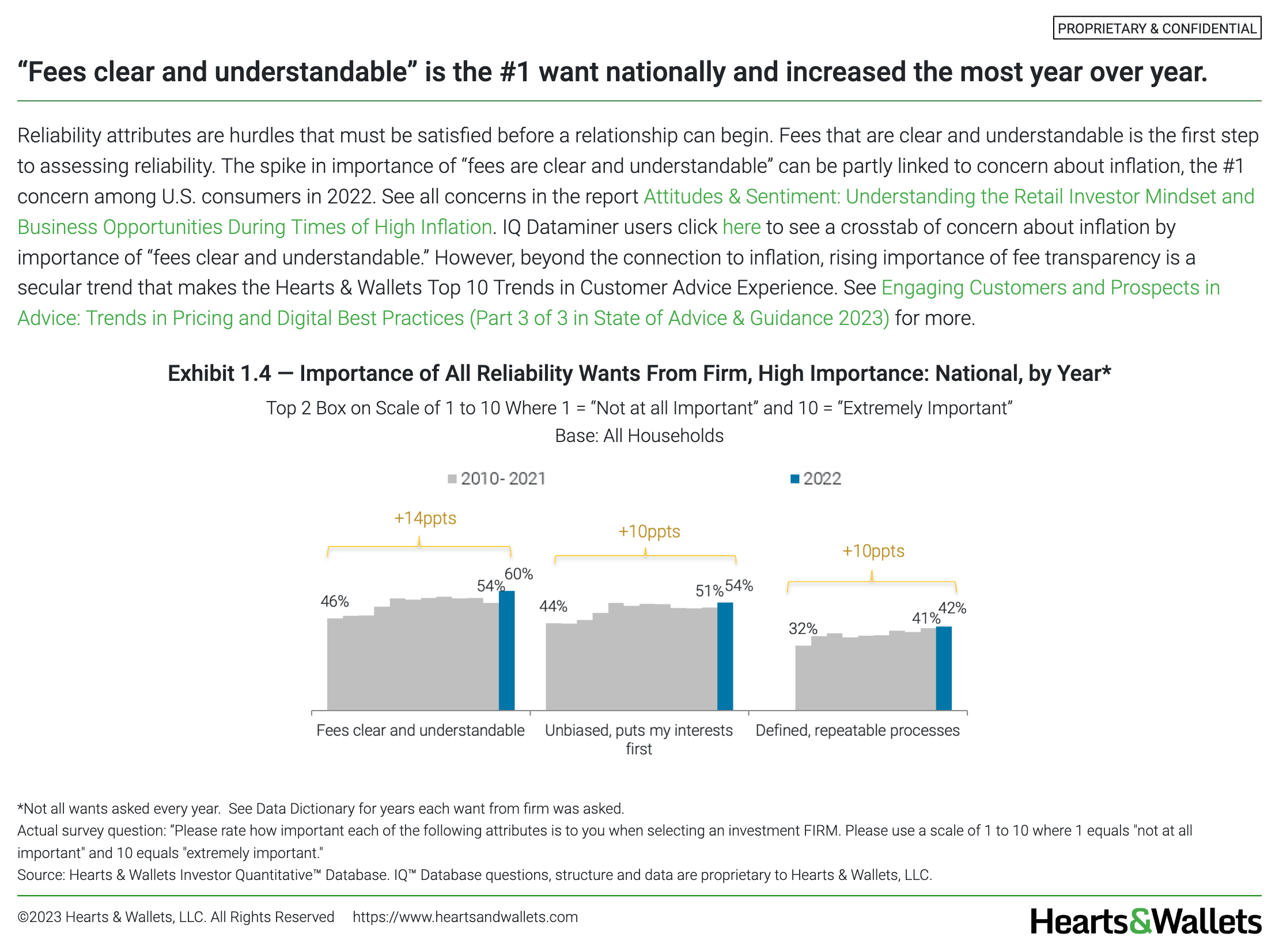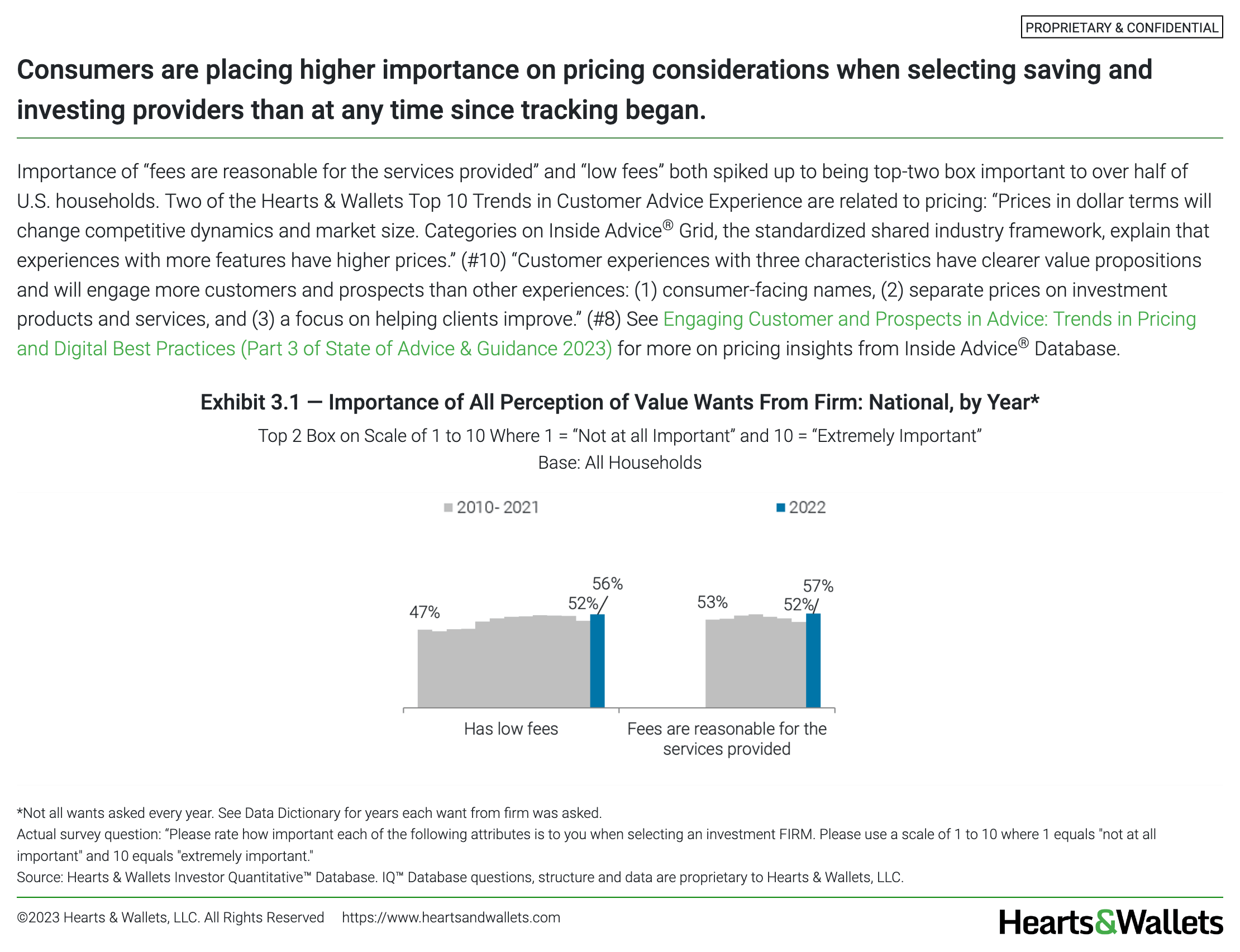 Key Findings & Implications. 8
1: Fees that are "clear and understandable" is the #1 want nationally. Four of the other top 10 wants relate to access channels. 11-20
1.1: Exhibit 1.1 — Importance of Wants From Firm, High Importance: National, 2022
1.2: Exhibit 1.2 — Top 10 Wants From Firm, Ranked on Top-Two Box Importance: National, 2022
1.3: Exhibit 1.3 — Importance of All Competence & Credibility Wants From Firm, High Importance: National, by Year*
1.4: Exhibit 1.4 — Importance of All Reliability Wants From Firm, High Importance: National, by Year*
1.5: Exhibit 1.5 — Importance of All Tangible Wants From Firm, High Importance: National, by Year*
1.6: Exhibit 1.6 — Importance of All Access & Communication Wants From Firm, High Importance: National, by Year*
1.7: Exhibit 1.7 — Importance of All Understanding & Empathy Wants From Firm, High Importance: National, by Year*
1.8: Exhibit 1.8 — Satisfaction of Wants From Firm, High Satisfaction: National, 2022
1.9: Exhibit 1.9 — Satisfaction on Top 10 Wants From Firm, Ranked on Top-Two Box Satisfaction: National, 2022
1.10: Exhibit 1.10 — High Importance vs. High Satisfaction* of All Wants from Firm: National, 2022
2: As competition intensifies, fewer Top Performers are emerging on customer wants than in the past. 21-39
2.1: Exhibit 2.1 — High Importance/High Satisfaction on Want From Firm "HAS WELL-TRAINED STAFF": by Store, 2022
2.2: Exhibit 2.2 — High Importance/High Satisfaction on Want From Firm "INVESTMENT IDEAS ARE KNOWLEDGEABLE, TIMELY, TACTICAL": by Store, 2022
2.3: Exhibit 2.3 — High Importance/High Satisfaction on Want From Firm "FEES ARE CLEAR & UNDERSTANDABLE": by Store, 2022
2.4: Exhibit 2.4 — High Importance/High Satisfaction on Want From Firm "IS UNBIASED, PUTS MY INTERESTS FIRST": by Store, 2022
2.5: Exhibit 2.5 — High Importance/High Satisfaction on Want From Firm "HAS MADE ME MONEY": by Store, 2022
2.6: Exhibit 2.6 – High Importance/High Satisfaction on Want From Firm "OFFERS PERSONAL FINANCIAL ADVICE": by Store 2022
2.7: Exhibit 2.7 — High Importance/High Satisfaction on Want From Firm "OFFERS INVESTMENT SELECTION ADVICE": by Store, 202
2.8: Exhibit 2.8 — High Importance/High Satisfaction on Want From Firm "PROVIDES CLEAR, USEFUL STATEMENTS": by Store, 2022
2.9: Exhibit 2.9 — High Importance/High Satisfaction on Want From Firm "IS EASILY REACHABLE BY TELEPHONE": by Store, 2022
2.10: Exhibit 2.10 — High Importance/High Satisfaction on Want From Firm "QUALITY OF INTERNET ACCOUNT ACCESS": by Store, 2022
2.11: Exhibit 2.11 — High Importance/High Satisfaction on Want From Firm "IS PROACTIVE WHEN MARKET CHANGES/WHEN I'M LOSING MONEY": by Store, 2022
2.12: Exhibit 2.12 — High Importance/High Satisfaction on Want From Firm "HAS GOOD MOBILE APPS": by Store, 2022
2.13: Exhibit 2.13 — High Importance/High Satisfaction on Want From Firm "QUALITY OF ONLINE TOOLS AND RESEARCH": by Store, 2022
2.14: Exhibit 2.14 — High Importance/HighSatisfaction on Want From Firm "QUALITY OF ONLINE TOOLS AND RESEARCH": by Store, Retail Investing Customers, 2022
2.15: Exhibit 2.15 — High Importance/High Satisfaction on Want From Firm "QUALITY OF ONLINE TOOLS AND RESEARCH": by Store, Workplace Participants, 2022
2.16: Exhibit 2.16 — High Importance/High Satisfaction on Want From Firm "QUALITY OF ONLINE TOOLS AND RESEARCH": by Store, Banking Customers, 2022
2.17: Exhibit 2.17 — High Importance/High Satisfaction on Want From Firm "EXPLAINS THINGS IN UNDERSTANDABLE TERMS": by Store, 2022
2.18: Exhibit 2.18 — High Importance/High Satisfaction on Want From Firm "UNDERSTANDS ME AND SHARES MY VALUES": by Store, 2022
2.19: Exhibit 2.19 – Summary of "Top Performer" Stores on Wants From Firm: 2022
3: Nationally, consumers are placing higher importance on pricing, but few customers understand what firms do to earn money. In 36% of relationships, customers do not know how they pay, 20% of relationships are reported as free, but flat fees, bps and even commissions lead to higher understanding than free. 40-47
3.1: Exhibit 3.1 — Importance of All Perception of Value Wants From Firm: National, by Year*
3.2: Exhibit 3.2 — Importance of All Perception of Value Wants From Firm: by Investable Assets, 2015-2022
3.3: Exhibit 3.3 — Overall Pricing NET: National, by Year
3.4: Exhibit 3.4 — Overall Pricing NET: by Household Investable Assets, 2022
3.5: Exhibit 3.5 — Overall Pricing NET by Account Type: National, 2022
3.6: Exhibit 3.6 — Understanding of How Firms Earn Money: National, by Year
3.7: Exhibit 3.7 — Crosstab of Understanding of How Firms Earn Money by Trust: 2022
3.8: Exhibit 3.8 — Comparison of Pricing Mechanisms: Satisfaction with "Fees are clear and understandable" and Understanding of How Firms Earn Money: 2022
4: Although some stores achieve high customer satisfaction on "low" or "reasonable" fees, at most stores significant portions of customers do not know how they pay. 48-53
4.1: Exhibit 4.1 — High Importance/High Satisfaction on Perception of Value "HAS LOW FEES": by Store, 2022
4.2: Exhibit 4.2 — High Importance/High Satisfaction on Perception of Value "HAS LOW FEES": by Store, Retail Investing Customers, 2022
4.3: Exhibit 4.3 — High Importance/High Satisfaction on Perception of Value "HAS LOW FEES": by Store, Workplace Participants, 2022
4.4: Exhibit 4.4 — High Importance/High Satisfaction on Perception of Value "FEES ARE REASONABLE FOR THE SERVICES PROVIDED": by Store, 2022
4.5: Exhibit 4.5 — Overall Pricing NET: by Store, 2022
4.6: Exhibit 4.6 — Understanding of How Firms Earn Money: by Store, 2022
View Related Briefing. 70