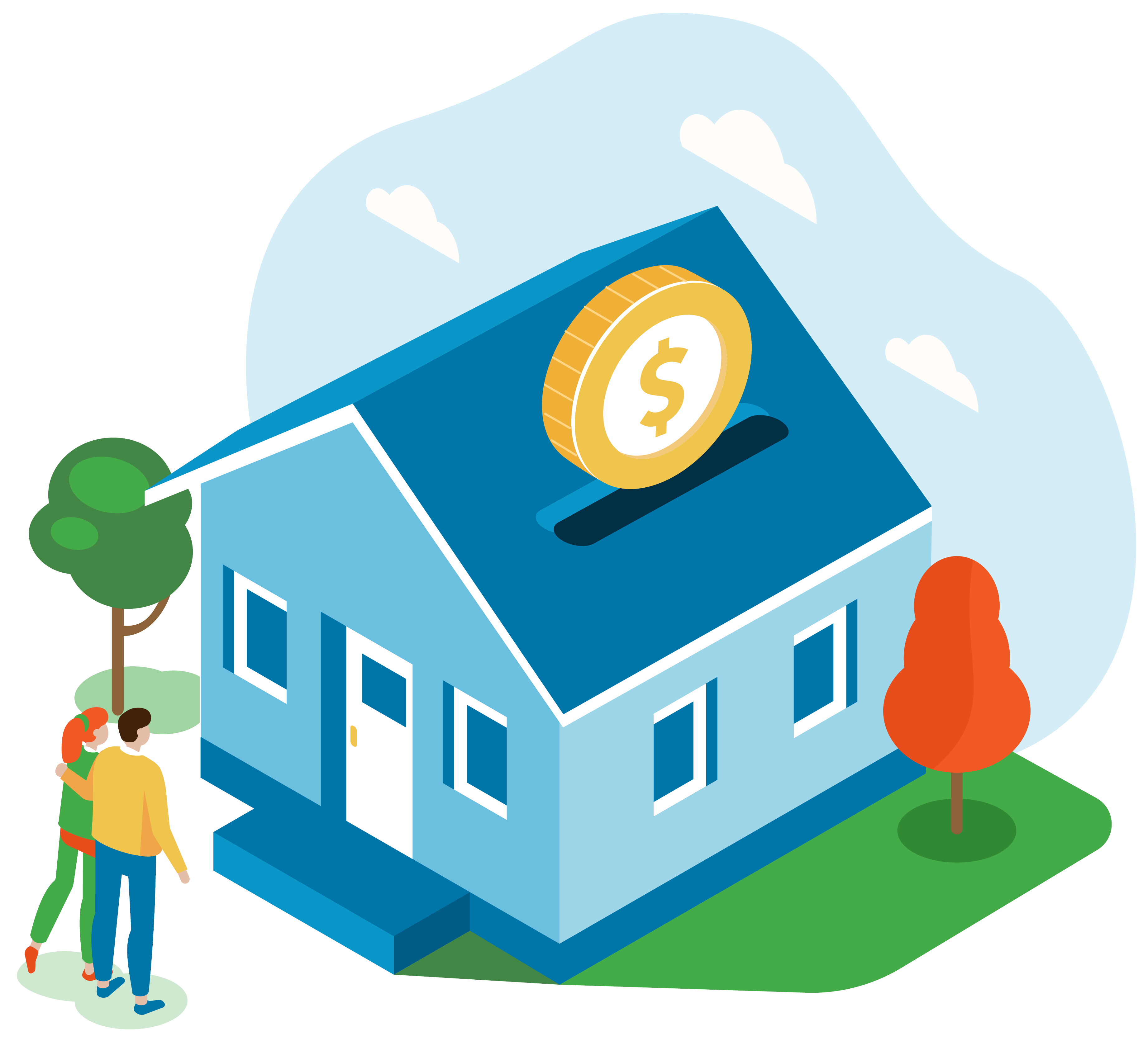 Order Report - Portrait™ of U.S. Household Wealth 2023: The Foundation of Market Sizing Reveals the 55+ Opportunity and Wealth Market Targets
Report Overview
The 2023 Portrait™ of U.S. Household Wealth reports on the current breakdown of household wealth in America. This report is updated annually. Learn who controls the wealth by age and asset ranges through the Portrait Grid™.

Key Findings
Nearly 130M households control $69.7T in investable assets, with growth in taxable now faster than retirement due to increasing concentration of wealth.
Concentration of investable assets is increasing. In 2022, only 12% of total investable assets is controlled by households with <$500K, down from 23% in 2011.
Households age 55+ control $51.4T, in part due to increasing concentration of wealth. However, among households with <$5M, Post-Retirees still dwarf all other lifestages in both asset and household terms.
The Wealth Market $2M+ of 5.5M households with $45.3T can be understood in 3 segments ($2M-<$5M Retired, $2M-<$5M Not Retired, $5M+) with differing attitudes and behaviors.
Pricing
Choose access licenses for your team or organization in ways that support how you collaborate. AVAILABLE FOR LICENSE TO NON TRENDS SUBSCRIBERS NOVEMBER, 2023.
Online with slide download, PPT & PDF (unlimited log-ins) - $28,000
Online with slide download (1-50 logs-ins) - $22,000
Online only (1-20 log-ins) - $18,000
Sample Report Pages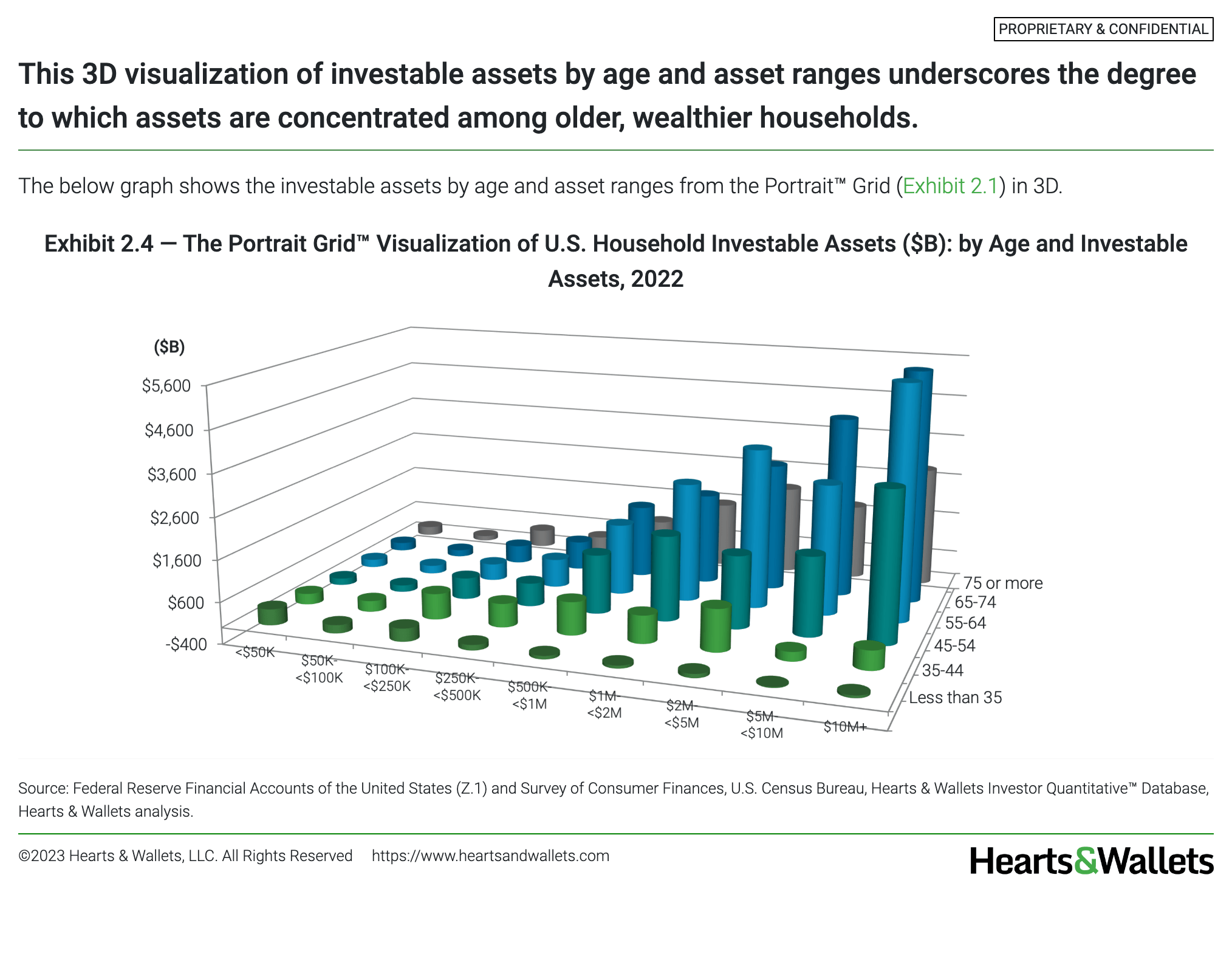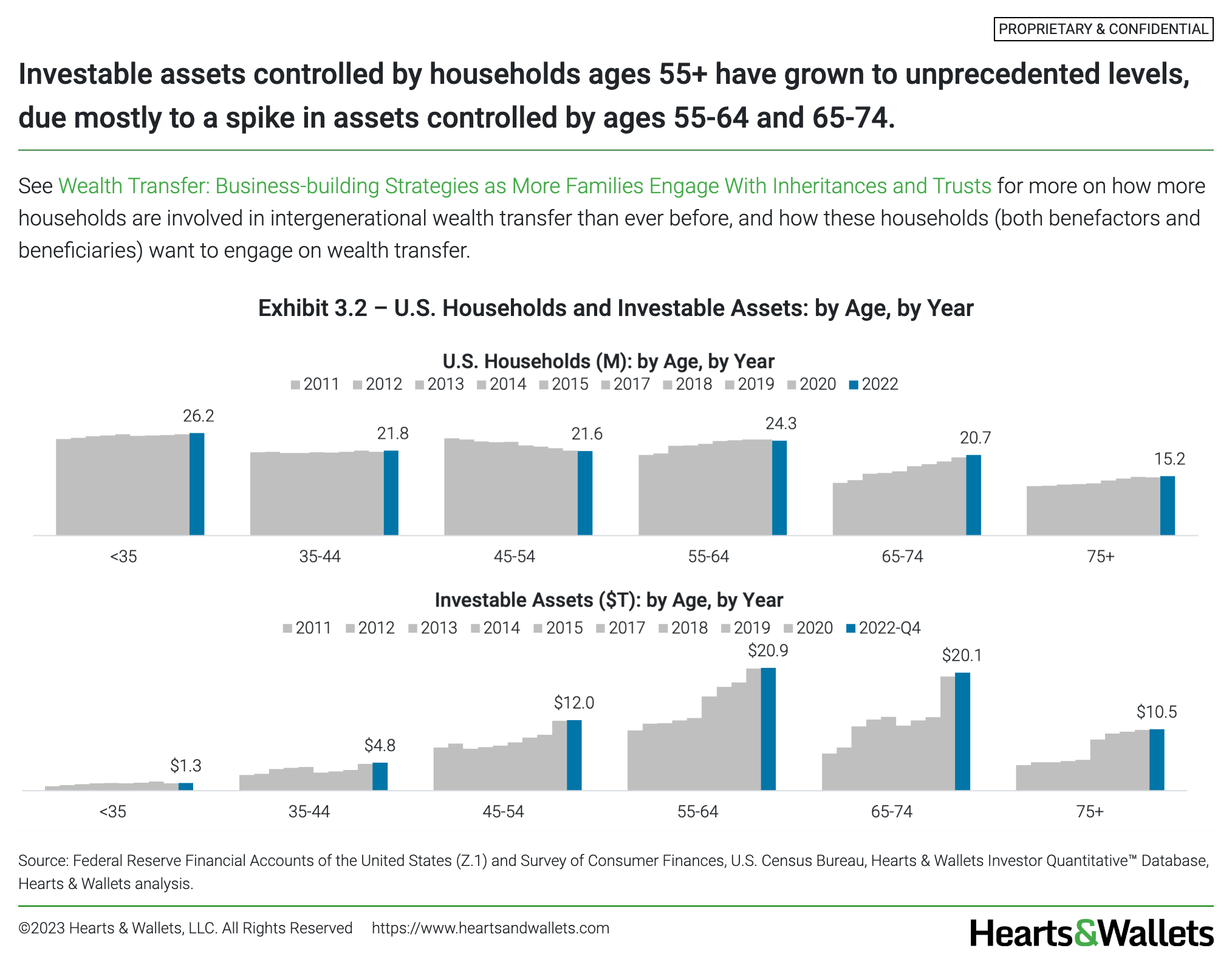 Key Findings & Implications. 4
1: Nearly 130M households control $69.7T in investable assets, with growth in taxable now faster than retirement due to increasing concentration of wealth. 7-14
1.1: Exhibit 1.1 — U.S. Households (M): By Year
1.2: Exhibit 1.2 — U.S. Household Total Investable Assets* ($T): by Year
1.3: Exhibit 1.3 — Total Investable Assets by Taxable and Consumer-Controlled Retirement ($T): by Year
1.4: Exhibit 1.4 — Consumer-Controlled Retirement, By Account Type ($T): by Year
1.5: Exhibit 1.5 — Taxable Assets vs. Retirement and Retirement Components, 2022-Q4
1.6: Exhibit 1.6 — Components of Household Wealth ($T): by Year
1.7: Exhibit 1.7 — Components of Household Wealth ($T): 2022-Q4
1.8: Exhibit 1.8 — Pension Plans ($T) by Funding Status and Sponsoring Entity Type: 2022-Q4
2: Concentration of investable assets is increasing. In 2022, only 12% of total investable assets is controlled by households with <$500K, down from 23% in 2011. 15-24
2.1: Exhibit 2.1 — The Portrait Grid™ 2022
2.2: Exhibit 2.2 – U.S. Households and Investable Assets: by Investable Asset Groups, 2022
2.3: Exhibit 2.3 — The Portrait Grid™ Visualization of Number of U.S. Households (M): by Age and Investable Assets, 2022-Q4
2.4: Exhibit 2.4 — The Portrait Grid™ Visualization of U.S. Household Investable Assets ($B): by Age and Investable Assets, 2022
2.5: Exhibit 2.5 – U.S. Households and Investable Assets: by Investable Asset Groups, by Year
2.6: Exhibit 2.6 – 5-Year Change in U.S. Households and Investable Assets: by Investable Asset Ranges, 2022 vs. 2017
2.7: Exhibit 2.7 – Percent of Total Investable Assets Controlled by Households in Each Asset Range: by Year
2.8: Exhibit 2.8 – The Portrait Grid™ 5-Year Historical Lookback: 2022 vs. 2017
2.9: Exhibit 2.9 – The Portrait Grid™ 5-Year Historical Lookback at Investable Assets: 5-Year Change in U.S. Household Investable Assets ($B) by Age and Investable Assets: 2022-Q4 vs. 2017
2.10: Exhibit 2.10 — Asset Class Allocation to Equity, Awareness and 0% Equity: by Investable Asset Ranges, by Year
3: Households age 55+ control $51.4T, in part due to increasing concentration of wealth. However, among households with <$5M, Post-Retirees still dwarf all other lifestages in both asset and household terms. 25-33
3.1: Exhibit 3.1 – U.S. Households and Investable Assets by Age: 2022
3.2: Exhibit 3.2 – U.S. Households and Investable Assets: by Age, by Year
3.3: Exhibit 3.3 – U.S. Households and Investable Assets <$5M vs. $5M+ by Age, 2022
3.4: Exhibit 3.4 – Lifestage Composition Within Breadwinner Age Groups: 2022
3.5: Exhibit 3.5 – Percent of Households in Post-Retiree Lifestage, by Age/Investable Asset Groups: 2022
3.6: Exhibit 3.6 – U.S. Households and Investable Assets by Lifestage: 2022
3.7: Exhibit 3.7 – U.S. Households and Investable Assets: by Lifestage, by Year
3.8: Exhibit 3.8 – U.S. Households and Investable Assets by Lifestage: Excluding $5M+ and Only $5M+, 2022-Q4
3.9: Exhibit 3.9 — Anticipated/Actual Sources of Income in Retirement - Employment Income: Incidence Rate and Average Percent of Income, by Lifestage, by Investable Asset Groups, 2022
4: The Wealth Market $2M+ of 5.5M households with $45.3T can be understood in 3 segments ($2M-<$5M Retired, $2M-<$5M Not Retired, $5M+) with differing attitudes and behaviors. 34-39
4.1: Exhibit 4.1 – Consumer Segment and Design Target Sizing: Wealth Market $2M+
4.2: Exhibit 4.2 — Profile of Wealth Market Segments: Demographics
4.3: Exhibit 4.3 — Profile of Wealth Market Segments: Household Finance and Attitudes & Sentiment
4.4: Exhibit 4.4 — Profile of Wealth Market Segments: Attitudes & Sentiment (cont.) and Paint Points & Actions
4.5: Exhibit 4.5 — Profile of Wealth Market Segments: Advice & Technology
4.6: Exhibit 4.6 — Profile of Wealth Market Segments: Wants & Pricing and Investment Products & Asset Managers
View Related Briefing. 43