Order Report - Pain Points & Actions:: Using the Biggest Advice Gaps to Jump Start Consumer Conversations
Report Overview
Today, more households are seeking help for financial tasks. This report looks at which tasks consumers find difficult, and which consumer segments find certain tasks difficult. Gen X and Millennials are increasingly seeking help on multiple tasks, which aligns with the finding in November's Attitude and Sentiments report that these generations have experienced a financial awakening. Most importantly the reports explores where the biggest advice gaps are which can help jump start conversations on product and service solutions with your customers!

Key Findings
More households report seeking help for multiple financial tasks with growth being driven by households with $100K-<$500K.
Millennials and Gen X are increasingly seeking help on multiple tasks. Difficulty with tasks drops off markedly with higher assets, but not higher income.
Many households who find tasks difficult do not seek help, creating advice gaps. Advice gaps occur more frequently in younger than older households.
The biggest advice gaps are "handling market volatility emotionally," choosing appropriate investments, estimating/calculating RMDs and estate planning.
Consumers are more likely to see value in paying for advice when tasks are difficult and even more likely when they have experienced advice.
Pricing Options to Meet Your Needs
Choose access licenses for your team or organization in ways that support how you collaborate. AVAILABLE FOR LICENSE TO NON TRENDS SUBSCRIBERS JANUARY 11, 2022.

Online only (1-20 log-ins) - $6,000
Online with slide download (1-50 logs-ins) - $9,500
Online with slide download, PPT & PDF (unlimited log-ins) - $15,000
Sample Report Pages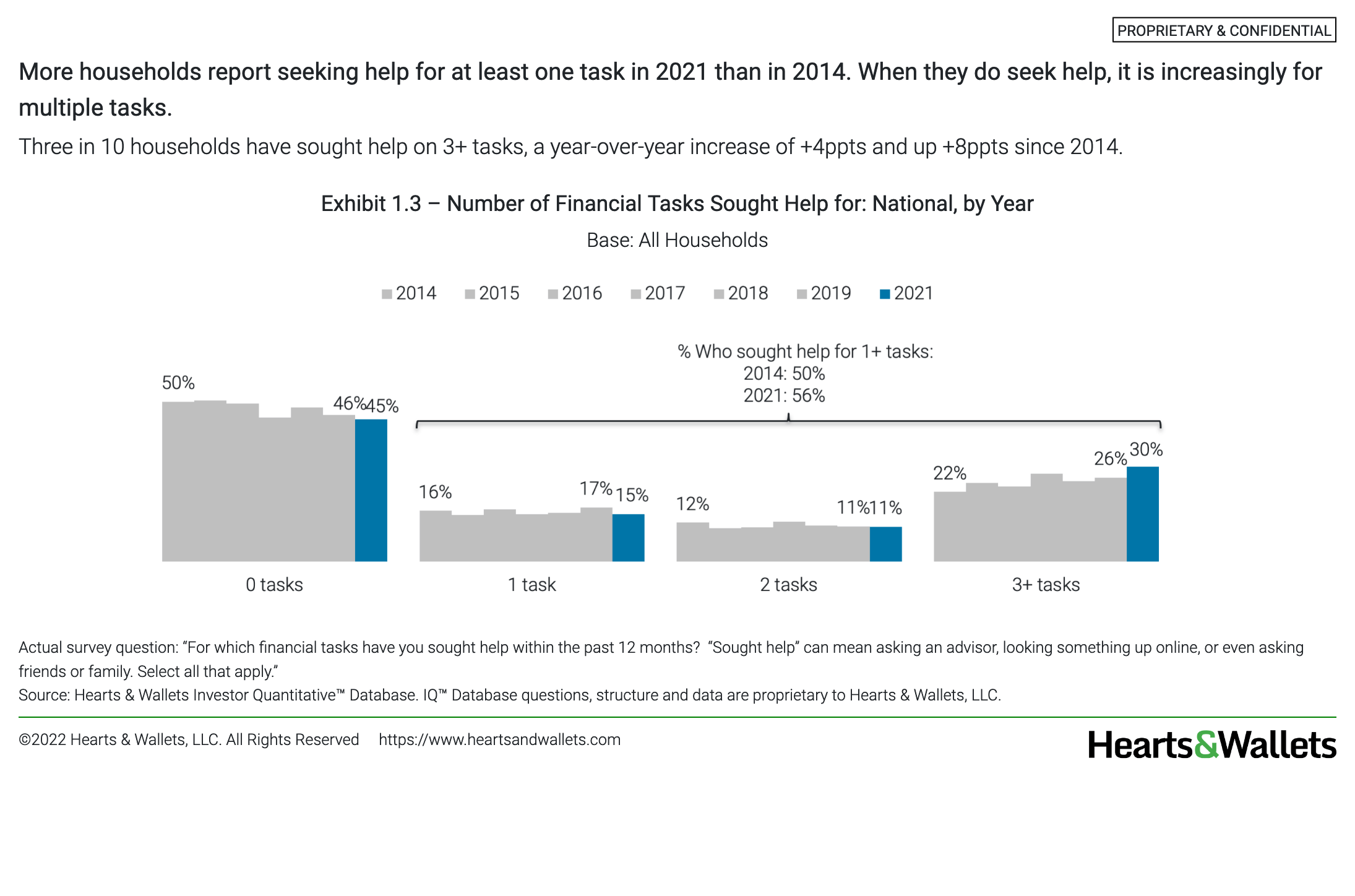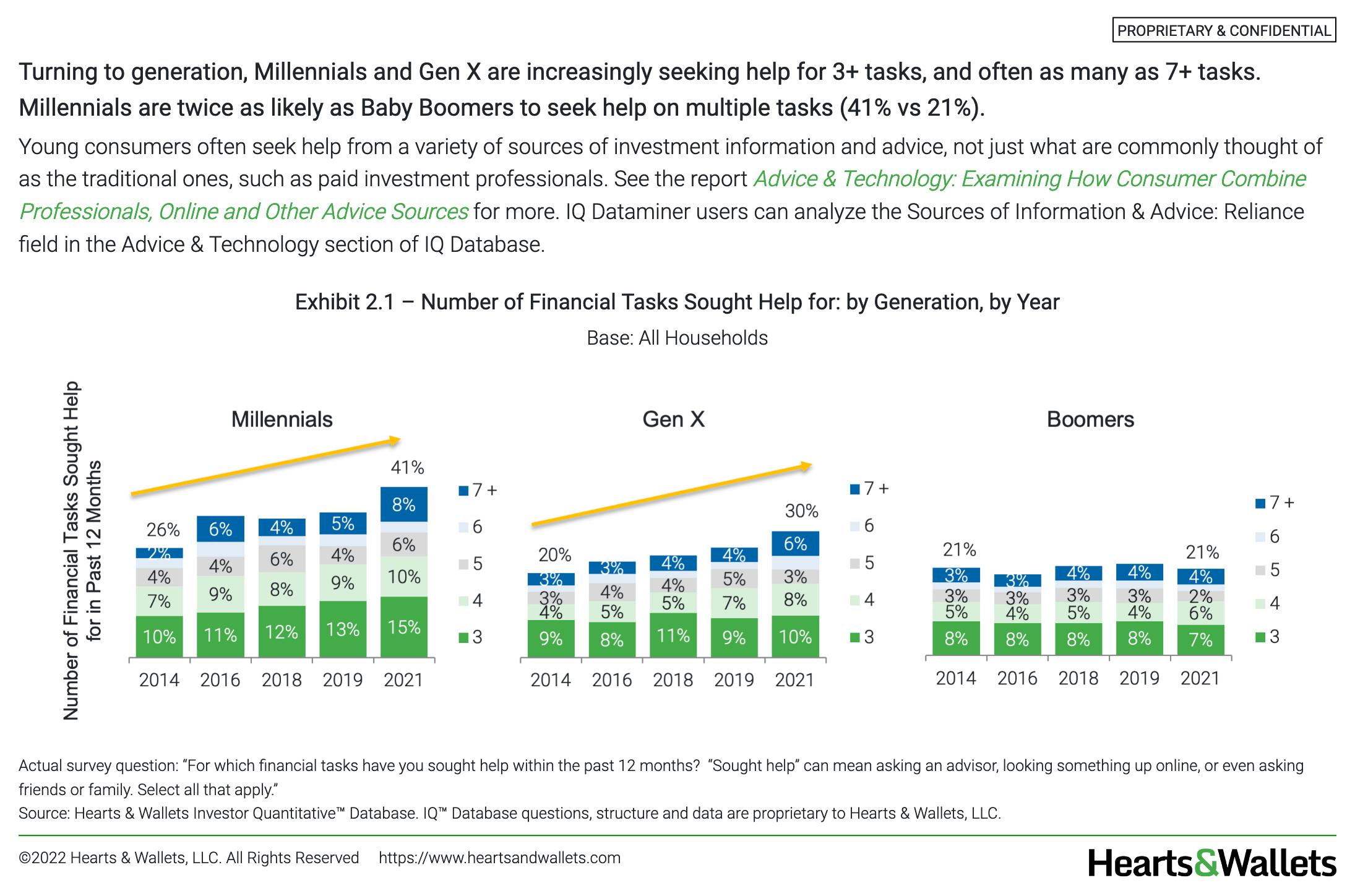 1: More households report seeking help for multiple financial tasks with growth being driven by households with $100K-<$500K. 9-17
1.1: Exhibit 1.1 – Difficulty With Financial Tasks, Task Applies or Not: National, 2021
1.2: Exhibit 1.2 – Difficulty With Financial Tasks: National, 2021
1.3: Exhibit 1.3 – Number of Financial Tasks Sought Help for: National, by Year
1.4: Exhibit 1.4 – Number of Financial Tasks Sought Help for: 0 Tasks and 3+ Tasks, by Investable Assets, by Year
1.5: Exhibit 1.5 – Number of Financial Tasks Rated Very Difficult (8-10): by Investable Assets, 2021
1.6: Exhibit 1.6 – Number of Financial Tasks Rated Very Difficult (8-10): National, by Year
1.7: Exhibit 1.7 – 3+ Financial Tasks Rated Very Difficult (8-10): by Investable Assets, by Year
1.8: Exhibit 1.8 – Number of Financial Tasks Sought Help for: Accumulators & Pre-/Post-Retirees, by Year
1.9: Exhibit 1.9 – Number of Financial Tasks Sought Help for: 0 Tasks and 3+ Tasks, by Lifestage, by Year
2: Millennials and Gen X are increasingly seeking help on multiple tasks. Difficulty with tasks drops off markedly with higher assets, but not higher income. 18-25
2.1: Exhibit 2.1 – Number of Financial Tasks Sought Help for: by Generation, by Year
2.2: Exhibit 2.2 — Number of Financial Tasks Sought Help for: by Generation, by Attitude "COVID-19 has Changed my Attitudes Towards Saving & Investing," 2021
2.3: Exhibit 2.3 — Number of Financial Tasks Rated Very Difficult (8-10): by Lifestage, 2021
2.4: Exhibit 2.4 — Difficulty with Financial Task "Choosing Appropriate Investments": by Lifestage, 2021
2.5: Exhibit 2.5 — Difficulty with Financial Task "Estate Planning": by Lifestage, 2021
2.6: Exhibit 2.6 — Difficulty with Financial Task "Figuring Out How to Fund my Expenses": by Lifestage, 2021
2.7: Exhibit 2.7 — Number of Financial Tasks Rated Very Difficult (8-10): by Investable Assets, 2021
2.8: Exhibit 2.8 — Number of Financial Tasks Rated Very Difficult (8-10): by Annual Household Income, 2021
3: Many households who find tasks difficult do not seek help, creating advice gaps. Advice gaps occur more frequently in younger than older households. 26-38
3.1: Exhibit 3.1 – Crosstab Analysis for Number of Tasks Rated Very Difficult (8-10) by Number of Tasks Sought Help for: National, 2021
3.2: Exhibit 3.2 – Sought Help With "Choosing Appropriate Investments": by Level of Difficulty, National, 2021
3.3: Exhibit 3.3 – Difficulty and Seeking Help for Financial Task "Choosing Appropriate Investments": National, 2021
3.4: Exhibit 3.4 – Market Size of Advice Gaps in Households, by Task: National, 2021
3.5: Exhibit 3.5 – Top 5 Advice Gaps: Accumulator Lifestages, 2021
3.6: Exhibit 3.6 – Top 5 Advice Gaps: Fully Employed Seniors, Pre-Retirees and Post-Retirees, 2021
3.7: Exhibit 3.7 – Lifestage by Generation: 2021
3.8: Exhibit 3.8 – Advice Gap by Task: Millennial Accumulators, by Year
3.9: Exhibit 3.9 – Advice Gap by Task: Gen X Accumulators, by Year
3.10: Exhibit 3.10 – Advice Gap by Task: Boomers by Lifestage, 2021
3.11: Exhibit 3.11 – Advice Gap by Task: Boomer Late Careers, by Year
3.12: Exhibit 3.12 – Advice Gap by Task: Boomer Pre-Retirees, by Year
3.13: Exhibit 3.13 – Advice Gap by Task: Boomer Post-Retirees, by Year
4: The biggest advice gaps are "handling market volatility emotionally," choosing appropriate investments, estimating/calculating RMDs and estate planning. 39-50
4.1: Exhibit 4.1 – Market Size of Advice Gaps in Households and Investable Assets, by Task: Assets <$5M, 2021
4.2: Exhibit 4.2 – Market Size of Advice Gaps in Households, by Task: by Investable Asset Groups: 2021
4.3: Exhibit 4.3 – Market Size of Advice Gaps in Assets, by Task: by Investable Asset Groups <$5M: 2021
4.4: Exhibit 4.4 – Market Size of Advice Gaps in Assets, by Task: Households with $5M+, 2021
4.5: Exhibit 4.5 – Market Size of Advice Gaps in Assets, by Task: by Investable Asset Groups: 2021
4.6: Exhibit 4.6 – Market Size of Advice Gaps in Assets, by Task: Households With $1M-$2M, 2021
4.7: Exhibit 4.7 – Market Size of Advice Gap – Financial Task: Estimating/Calculating RMDs: by Investable Asset Groups, 2021
4.8: Exhibit 4.8 – Market Size of Advice Gap – Financial Task "Handling Market Volatility Emotionally": by Investable Asset Groups, 2021
4.9: Exhibit 4.9 – Market Size of Advice Gap – Financial Task "Estate Planning": by Investable Asset Groups, 2021
4.10: Exhibit 4.10 – Market Size of Advice Gap – Financial Task "Managing Finances of Loved Ones as They Age": by Investable Asset Groups, 2021
4.11: Exhibit 4.11 – Market Size of Advice Gap – Financial Task "Deciding Whether to Convert a Traditional Retirement Account to a Roth Retirement Account": by Investable Asset Groups, 2021
4.12: Exhibit 4.12 – Market Size of Advice Gap – Financial Task "Developing a Financial Plan to Balance My Short-term and Long-term Financial Goals": by Investable Asset Groups, 2021
5: Consumers are more likely to see value in paying for advice when tasks are difficult and even more likely when they have experienced advice. 51-56
5.1: Exhibit 5.1 – Crosstab Analysis for Difficulty with Financial Task "Choosing Appropriate Investments" by Attitude "See Value in Paying for Professional Financial Advice": National, 2021
5.2: Exhibit 5.2 – Crosstab Analysis for Difficulty with Financial Task "Managing the Finances of my Loved Ones as They Age" by Attitude "See Value in Paying for Professional Financial Advice": National, 2021
5.3: Exhibit 5.3 – Crosstab Analysis for Difficulty with Financial Task "Developing a Financial Plan to Balance My Short-Term and Long-Term Financial Goals" by Attitude "See Value in Paying for Professional Financial Advice": National, 2021
5.4: Exhibit 5.4 – Crosstab Analysis for Number of Financial Tasks Sought Help For by Attitude "See Value in Paying for Professional Financial Advice": National, 2021
5.5: Exhibit 5.5 – Crosstab Analysis for Number of Financial Tasks Rated Very Difficult (8-10) by Attitude "See Value in Paying for Professional Financial Advice": National, 2021
5.6: Exhibit 5.6 – Crosstab Analysis for Agreement with Attitude "My financial advisor is a partner to me" by Difficulty with Financial Task "Choosing Appropriate Investments": National, 2021