Order Report - Crypto, Securities Lending & Fractional Shares: Balancing Access vs. Risk in Innovation
Report Overview
Nearly 50% of US households are interested in or use use fractional shares, approximately 25% use crypto, and 20% use securities-based lines of credit. What some would consider riskier investment products are on the rise -- especially with the younger generations. This report explores consumer trends related to these emerging products.

Key Findings
Nearly half of U.S. retail investing households use or are interested in fractional shares.

One in 4 households uses crypto, with trading driving the nearly 3-fold increase year over year.

Nearly 1 in 5 households has a securities-based line of credit (SBLOC), with an additional 1 in 5 interested in obtaining one.

Prudently innovative companies should address crypto, fractional shares and SBLOCs in ways that keep consumers safe while understanding the bigger need is simple ways to engage risk averse households.

Pricing
Choose access licenses for your team or organization in ways that support how you collaborate. AVAILABLE FOR LICENSE TO NON TRENDS SUBSCRIBERS March 22, 2022.
Online only (1-20 log-ins) - $9,000
Online with slide download (1-50 logs-ins) - $12,000
Online with slide download, PPT & PDF (unlimited log-ins) - $19,000

Sample Report Pages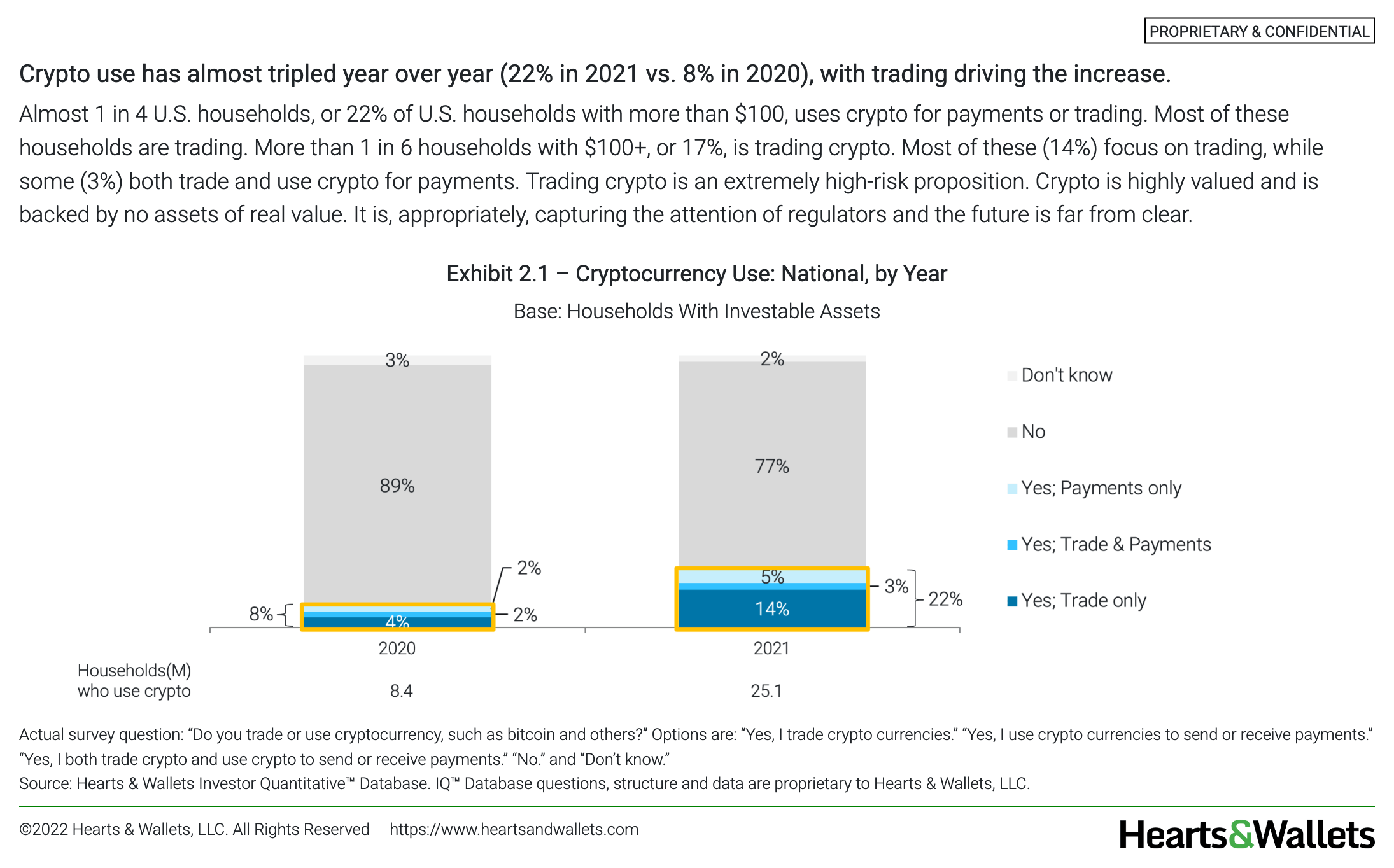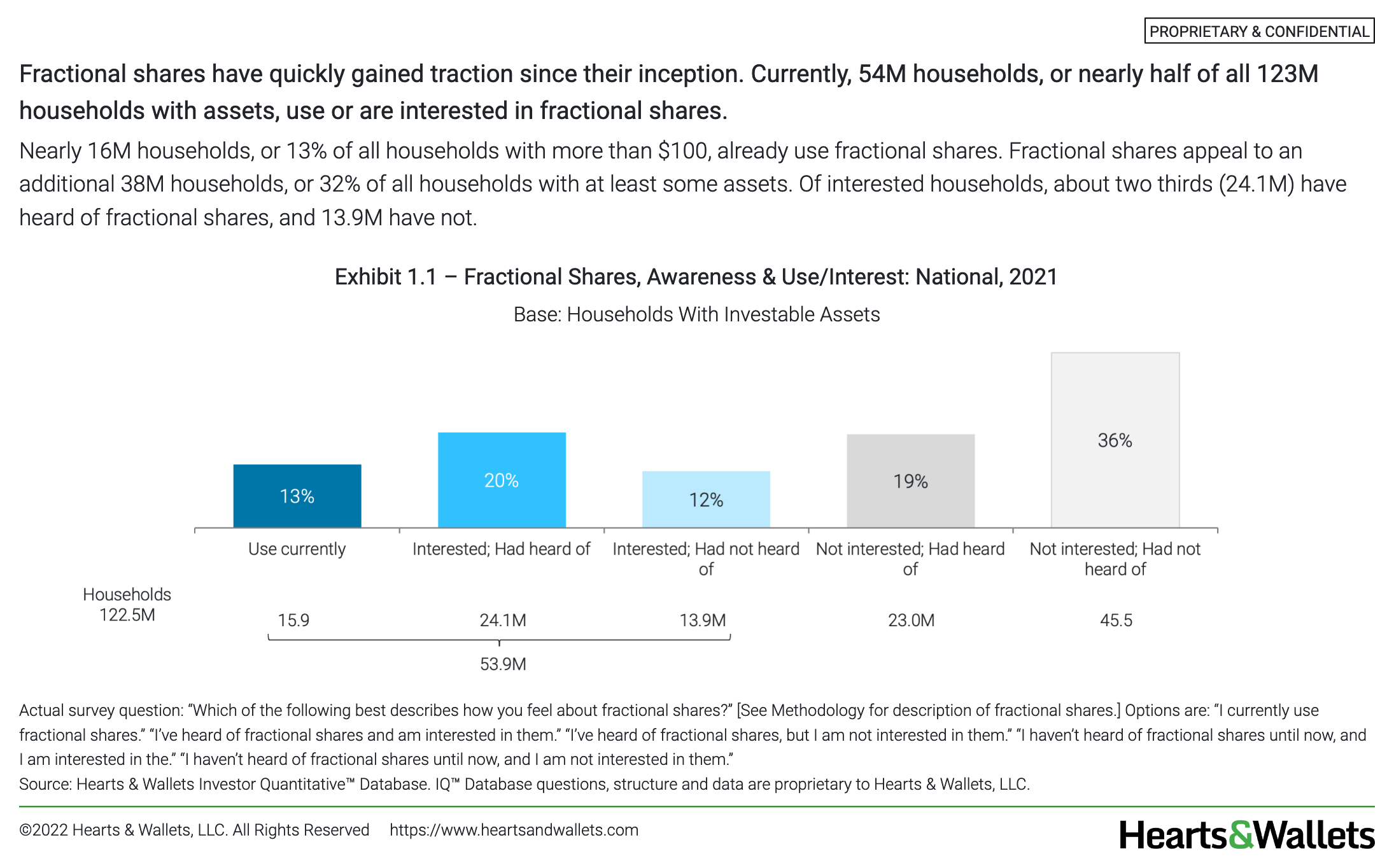 Key Findings & Implications 5
1: Nearly half of U.S. retail investing households use or are interested in fractional shares. 8-13
Exhibit 1.1 – Fractional Shares, Awareness & Use/Interest: National, 2021
Exhibit 1.2 – Fractional Shares, Awareness & Use/Interest: by Generation, 2021
Exhibit 1.3 – Fractional Shares, Awareness & Use/Interest: by Investable Assets, 2021
Exhibit 1.4 – Fractional Shares: Awareness & Use/Interest: by Generation, by Investable Assets, 2021
Exhibit 1.5 – Fractional Shares, Awareness & Use/Interest: by Gender, 2021
Exhibit 1.6 – Fractional Shares, Use: by Store*, 2021
2: One in 4 households uses crypto, with trading driving the nearly 3-fold increase year over year. 14-22
Exhibit 2.1 – Cryptocurrency Use: National, by Year
Exhibit 2.2 – Cryptocurrency Use: National, 2021
Exhibit 2.3 – Reasons for Using Cryptocurrency, by Year
Exhibit 2.4 – Engagement with Cryptocurrency NET: by Select Segments (Gender, Generation, Investable Assets), by Year
Exhibit 2.5 – Engagement With Cryptocurrency NET: by Experience With Investing, by Year
Exhibit 2.6 – Crosstab of Crypto Traders for Volatility by Perception of Experience with Investing: 2021
Exhibit 2.7 – Engagement with Cryptocurrency NET: by Generation, by Investable Assets, by Year
Exhibit 2.8 – Engagement with Cryptocurrency NET: by Metro Area*, by Year
Exhibit 2.9 – Engagement with Cryptocurrency NET: by Store*, by Year
3: Nearly 1 in 5 households has a securities-based line of credit (SBLOC), with an additional 1 in 5 interested in obtaining one. 23-28
Exhibit 3.1 – Securities-Based Lines of Credit, Use/Interest: National, 2021
Exhibit 3.2 – Securities-Based Lines of Credit, Use/Interest: by Generation, 2021
Exhibit 3.3 – Securities-Based Lines of Credit, Use/Interest: by Investable Assets, 2021
Exhibit 3.4 – Securities-Based Lines of Credit, Use/Interest: by Generation, by Investable Assets, 2021
Exhibit 3.5 – Securities-Based Lines of Credit, Use/Interest: by Gender, 2021
Exhibit 3.6 – Securities-Based Lines of Credit, Use: by Store*, 2021
4: Prudently innovative companies should address crypto, fractional shares and SBLOCs in ways that keep consumers safe while understanding the bigger need is simple ways to engage risk averse households. 29-41
Exhibit 4.1 – Risk Tolerance: by Crypto Traders for Volatility, by Year
Exhibit 4.2 — All Attitudes: by Crypto Use Segmentation, 2021
Exhibit 4.3 – Saving & Investing Goals by Cryptocurrency Use: Millennials, 2021
Exhibit 4.4 – Crosstab of Risk Tolerance by Securities-Based Lines of Credit, Use/Interest: National, 2021
Exhibit 4.5 – Crosstab of Asset Allocation to Equity by Securities-Based Lines of Credit, Use/Interest: National, 2021
Exhibit 4.6 – Overall Asset Allocation: by Use/Interest in Securities-Based Lines of Credit, 2021
Exhibit 4.7 – Selected Saving & Investing Goals: by Use/Interest in Securities-Based Lines of Credit, 2021
Exhibit 4.8 — Sizing SBLOC Opportunity, With Crosstab of Crypto Use: Households & Investable Assets, 2021
Exhibit 4.9 — Sizing Fractional Share Opportunity, With Profile by Generation & Investable Assets: Households, 2021
Exhibit 4.10 – Asset Allocation to Equity: by Fractional Shares Awareness & Use/Interest, 2021
Exhibit 4.11 – Risk Tolerance: by Fractional Shares, Awareness & Use/Interest, 2021
Exhibit 4.12 – Sizing of "Risky Business" Segmentation: Households & Investable Assets, 2021
Exhibit 4.13 – Investable Asset Ranges: by "Risky Business" Segmentation, 2021